Bing Chat Enterprise vs. Azure OpenAI: A Comparative Analysis for Enterprise AI Chat Tools
In our current digital age, AI chat tools are becoming an integral part of day-to-day business operations. With numerous options available, it can be daunting to choose the right fit for your business needs. For organizations that use Microsoft 365, two prominent contenders are Bing Chat Enterprise and Azure OpenAI. Here's a comprehensive comparison to guide you in making an informed decision.
Bing Chat Enterprise: Simplicity and Privacy-Centric Conversations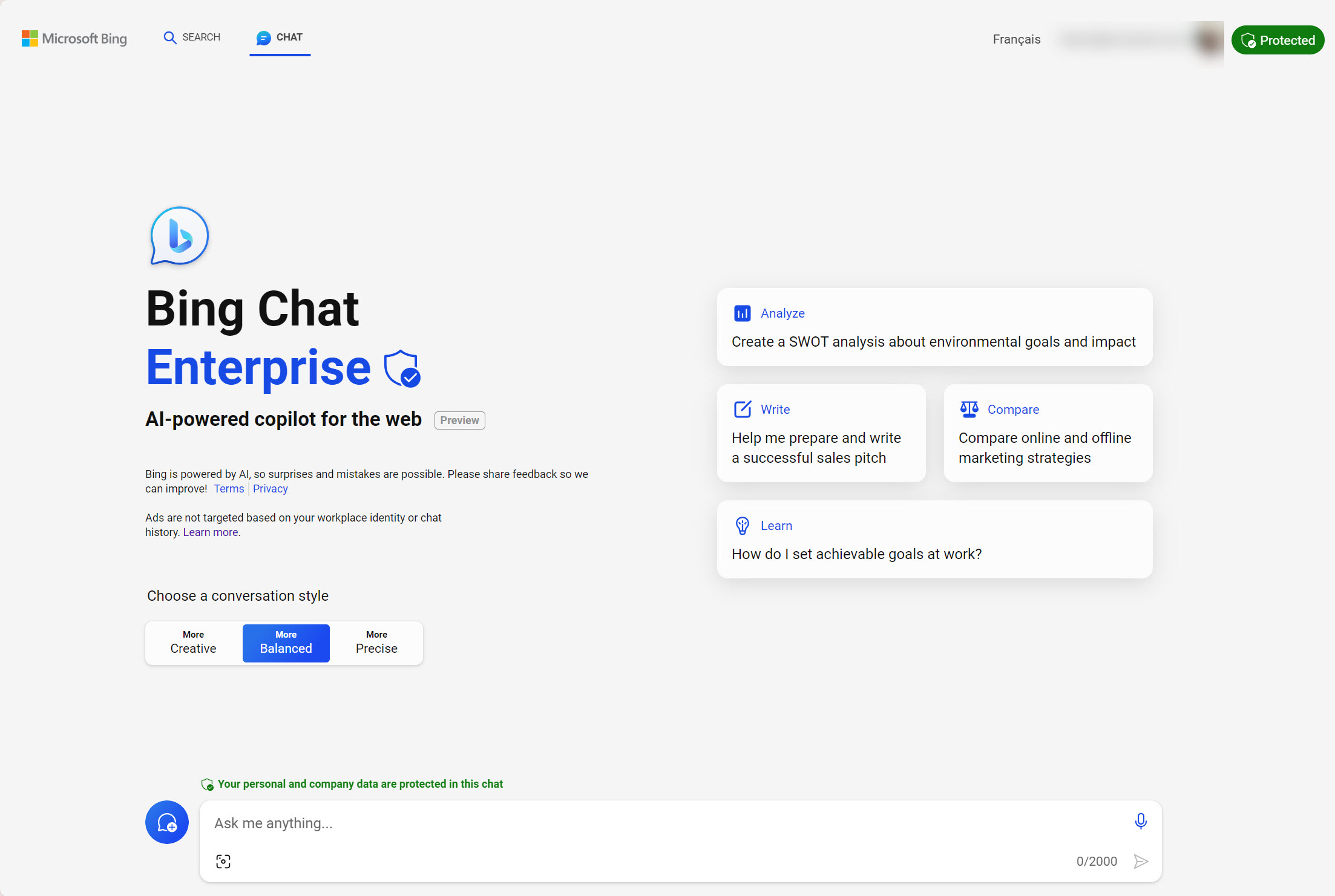 Bing Chat Enterprise, powered by AI, emphasizes commercial data protection. A salient feature of this chat tool is its privacy commitment. Unlike some AI models that learn from user interactions, Bing Chat Enterprise ensures that conversations remain confidential, with no data being incorporated into public training models.
Interestingly, Microsoft goes a step further in ensuring privacy by keeping the chats invisible to itself. Integrated into Microsoft Edge for Business, it's readily accessible by opening the Bing sidebar in Microsoft Edge or through Bing Chat.
While one might expect it to draw data from corporate searches (similar to Bing's integration with Microsoft Search), it primarily focuses on providing a secure environment for chat. The process is prompt-driven: users load data into the conversation, follow up, and receive results without any compromise on privacy. Essentially, it mirrors the functionality of ChatGPT but offers enhanced privacy features.
Azure OpenAI: A Customizable and Robust AI Service
Azure OpenAI stands out for its REST API offerings to GPT4 and GPT3.5, ensuring that businesses are always on the cutting edge of language models. Co-developed APIs guarantee smooth transitions and compatibility. Security, a paramount concern, is at par with Microsoft Azure standards, encompassing private networking, regional availability, and responsible content filtering. Although it provides the underlying model similar to GPT, Azure OpenAI requires users to create their own user interface. This offers flexibility and sophistication, but it also means a steeper learning curve.
One potential drawback of Azure OpenAI for larger enterprises is its consumption-based pricing model, which might escalate costs. The service is priced and scales by context and token, and is broken down as follows:
1 token = 4 characters in English
1 token = 3/4 words
100 tokens = 75 words

Want in-depth steps for calculating Azure OpenAI usage costs? Check out the following guide by Microsoft AI MVP Oleksandr Krakovetskyi.
Bing Chat Enterprise vs. Azure OpenAI: The Verdict
While both tools offer unique advantages, their suitability hinges on specific needs. We've summarized our findings in the table below:

In conclusion, Bing Chat Enterprise, with its emphasis on privacy and straightforward interface, is perfect for businesses seeking a hassle-free chat solution without the intricacies of configuration. In contrast, Azure OpenAI, while a more demanding setup, offers a higher degree of customization and the potential for more nuanced responses, given its ability to leverage corporate data.
The choice between Bing Chat Enterprise and Azure OpenAI depends on your enterprise's priorities. If you value quick deployment and the utmost privacy, Bing Chat might be your go-to. But if you're looking for a highly customizable and in-depth AI chat tool experience, Azure OpenAI could be the right fit.
Related Pages
---
{{#this}}
{{#if RollupImage}}
{{else}} {{/if}}
{{{hyperlink RelativeURL Title Title null}}}
{{#if EventStartDate}}
{{eventDate EventStartDate EventEndDate}}
{{/if}} {{#if PublishedDate1}}
{{generalDate PublishedDate1}}
{{/if}} {{#if RollupContent}}
{{{RollupContent}}}
{{/if}}
{{{hyperlink RelativeURL Title "Read more..." null}}}
{{/this}}