Collision Conference 2023: Unveiling the Cutting-Edge Potential of AI and its Economic Impact
Attending Collision Conference 2023 provided Extranet User Manager with the opportunity to appreciate the energy and excitement generated when the world's global tech industry comes together to assess new developments and pitch emerging ideas. In addition to gaining inspiration on how to continue improving our SaaS product, we were also exposed to the latest applications, statistics, and warnings on the rapid development of AI.
The event, now in its fifth year in Toronto, set a record by bringing together 36,378 attendees from 118 countries. Accommodating that crowd required increasing the floor space by 7.5 percent to 82,800 square metres. In a nod to the Canadian hosts, organizers translated that number to a relatable equivalent: 47 ice hockey rinks. The event provided considerable learning opportunities provided by 1,426 speakers and attracted global interest through media from 42 countries.
The focus was on the entrepreneurs seeking to finance their ideas. Collision selected 1,497 startups from 76 countries, including Ghana, Uruguay, Italy, Japan, and the Republic of Korea. Attending startups represented almost 30 industries. A record-breaking one in three of the 1,497 startups at Collision have women founders on their teams.
If the winners of the competition for best pitch are any guide, investors continue to be interested in platforms, especially if they provide access to dormant inventory or disrupt established business models. Syzl won PITCH 2023. The company is a business-to-business marketplace platform that allows chefs to rent underutilized commercial kitchen spaces, based on proximity and equipment. Fractionum placed second. It is a licensed fractional real estate investment platform that makes investing available to everyone by removing the high costs to enter, challenging the traditional REIT model.
AI's Impact on Development and the Economy
As was to be expected, AI dominated mindshare at Collision, with start-ups eager to pitch how they plan to use it and investors keen to find the few companies that will use it become a unicorn. But the sessions went beyond the hype. For example, the Vector Institute, a world-leading AI Institute, facilitated a panel discussion about the benefits and risks of AI for small- and medium-sized businesses given the rapid pace of AI development. The panelists provided sobering reminders about the importance of risk analysis and the need to update governance models.
Attendees were also treated to a centre stage presentation that provided compelling data on how established companies are rapidly adopting AI. GitHub was acquired by Microsoft in 2014 and the company's CEO, Thomas Dohmke, unveiled breaking new research on the economic and productivity impact of generative AI–powered developer tools.
The research found that the increase in developer productivity due to AI could boost global GDP by over $1.5 trillion. The researchers arrived at this figure by assuming a 30% productivity enhancement, which has been indicated by their data, with a projected number of 45 million professional developers in 2030. That math shows generative AI developer tools could add productivity gains of an additional 15 million "effective developers" to worldwide capacity by 2030.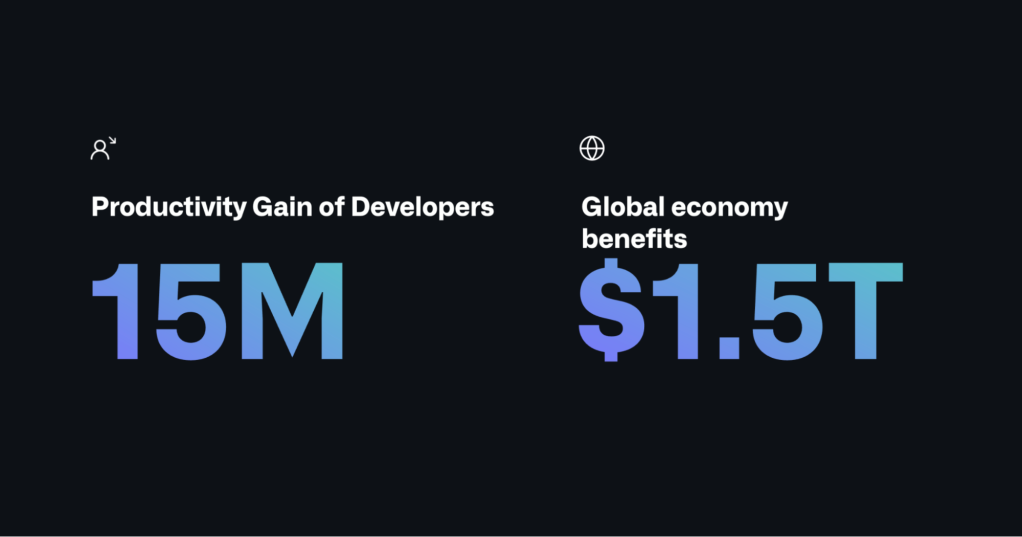 The research also indicated strong, and growing, acceptance of AI in the development process. GitHub Copilot has been activated by more than one million developers and adopted by over 20,000 organizations. It has generated over three billion accepted lines of code. According to their ecosystem analysis of AI repositories on GitHub, the landscape that makes up those working on generative AI is diverse, from big tech companies to individuals.
AI's Impact on Society
While the crowds were swept up in the hype of AI and provided with data on its economic impact, conference organizers ensured the attendees contemplated the bigger risks the technology could create. Geoffrey Hinton, who Snoop Dog recently referred to as "old dude that created AI," drew a standing-room only crowd to hear his point of view. While clearly excited by the technology — "how could you not love making intelligent things" — he did cite six specific areas of concerns:
Bias and Discrimination. Addressing this will be paramount but should be relatively solvable if we can analyze and correct biases.
Battle Robots. Already in development, these pose wide-ranging risks, from amplifying warfare to making it less costly in human lives for affluent nations to invade poorer ones.
Joblessness and Inequality. Noting that historical gains in productivity have tended to be distributed unequally, Hinton suggested we consider social measures to address potential joblessness stemming from AI-driven productivity.
Echo Chambers. The development of generative AI is occurring during a period in which he noted that large companies are using algorithms to drive users to content that makes them angry, as well as reinforcing their own perspectives and disregarding other viewpoints.
Existential Risks. Flagging this risk puts Hinton in a club that's far from exclusive, but his standing as godfather of AI means his views must be heeded. "People need to understand existential risk is not just fear-mongering; it is a real risk we need to think about."