Do external users need a Microsoft account to access shared resources?
Are you looking to securely share resources with users outside your organization who do not have a Microsoft account?
Working with collaborators outside your organization is often an occurrence in today's business world. While many have chosen Microsoft as their internal collaboration platform, it is possible that external guests may not have access to a Microsoft account. We often get asked, "Do external users need a Microsoft account to access shared resources?" Let's explore the process of giving external users, without a Microsoft account, access to shared resources.
Do External Users Need A Microsoft Account to Access Share Resources?
The good news is that external users do not necessarily need a Microsoft account to access shared resources. Microsoft has an abundance of internal collaboration tools and recognizes the importance of sharing those resources with external collaborators. However, the process of giving external users access to resources can be complicated and expensive for your organization.
Using a product such as Extranet User Manager, you can simplify the onboarding process and share resources with external users while maintaining the security of your organization. Within Extranet User Manager, we have tools such as Documents, which allows you to share, download, edit, or delete documents with external collaborators.
Using EUM to Share Resources with External Users
Extranet User Manager is a tool built on Microsoft's platform and designed to make it simple for you to onboard external users into your Microsoft Tenant without needing IT expertise or sacrificing security.
Using Extranet User Manager's Documents product, you can easily share documents with a broad external audience even if they do not have a Microsoft account.
Within Extranet User Manager you can:
Manage external users
Place users in groups
Share specific resources with groups or individuals
Setting Limitations For External Users
When you are sharing resources with external users who do not have a Microsoft account, there are limitations that you can set to ensure that your information remains confidential. Often, organizations only want to share the information with external users that is necessary to accomplish their goal. This helps to ensure data remains confidential and helps get projects completed efficiently.
Within Extranet User Manager you can manage external user permissions, and create groups of specific users. Creating groups within EUM allows you to segment your external users, while our Documents tool allows you to share access to specific resources within your groups. All of this is done within a customizable and visually appealing portal that is simple to navigate for both end users and administrators.
Tracking and Monitoring External Users
Tracking an external user's activity is essential to gathering data to improve your processes. With Extranet User Manager, you can track login attempts, password fails, which groups users are accessing and more. This allows you to keep track of which users have access to your shared resources and make future decisions about your resource-sharing processes for efficiency and security.
Revoking Access For External Users
Whether you need to revoke access for security reasons or you simply want to remove an external user's access after collaboration is complete, Extranet User Manager allows you to change user permissions to prevent them from continually accessing shared resources. Internal users with permissions management can manage external users' permissions and access within EUM.
It is important to remember that once a document is shared and downloaded by an external user, you are unable to revoke access to the downloaded document. However, using Extranet User Manager, you can change user permissions to revoke access to groups, the user manager itself, and prevent future shared files from being accessed by this user.
When collaborating with external users, having a simple and secure way to provide access to shared resources will save the time and investment needed to involve IT every time you want to share with a new user. Whether external users have a Microsoft account or not, with Extranet User Manager, you can easily onboard external users into your organization and share access to necessary resources without delay.
Take the first step towards simple and secure external sharing by contacting us today!
Related Assets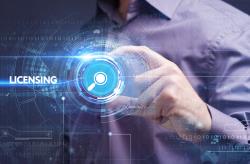 March 16, 2023 ● Article
Unsure of how SharePoint Online Guest Licensing works? You're in a club that's far from exclusive. In this article we break down how it works.
Related Pages
---
{{#this}}
{{#if RollupImage}}
{{else}} {{/if}}
{{{hyperlink RelativeURL Title Title null}}}
{{#if EventStartDate}}
{{eventDate EventStartDate EventEndDate}}
{{/if}} {{#if PublishedDate1}}
{{generalDate PublishedDate1}}
{{/if}} {{#if RollupContent}}
{{{RollupContent}}}
{{/if}}
{{{hyperlink RelativeURL Title "Read more..." null}}}
{{/this}}