Finding the Hidden Wealth of Knowledge in Organizations with a Comprehensive People Search
Intellectual Capital: The Power of Your Employees' Expertise
In today's fast-paced, digitized work environment, an organization's strength isn't just measured by its tangible assets but by the intellectual capital held within the minds of its people. Often, employees possess skills that transcend their formal roles – skills that remain underutilized due to silos, especially in the age of remote working. The unintentional overlooking of such skills translates to lost opportunities for growth and innovation. In a remote work scenario, cultivating an open culture where knowledge is freely shared becomes a challenge.
This is a challenge organizations have struggled to address for a long time. Years ago, Lew Platt, the former CEO of Hewlett-Packard, noted that "If only HP knew what HP knows, we would be three times more productive."
The core issue is that tacit knowledge is in someone's head, and the challenge is to make that knowledge explicit, or codified in recorded form, so that it can be shared. It's generally accepted that about 20% of a corporation's knowledge is well documented, indexed, and archived and can be easily accessed through Knowledge Management (KM) tools.
A popular attempt to address this issue has been a comprehensive People Directory. A solution that not only lets employees showcase all their skills but also offers a robust People Search feature. This searchability based on diverse criteria – from skills to work functions – enhances collaboration and optimizes resource allocation.
The Data Dilemma
The problem with that approach is the same with any search-based solution: the system can only find what's there to be found. Capturing and sharing tacit knowledge so that it becomes explicit - and found by search - is challenging because, up until now, that required people to do something. They had to take the time to update a knowledge repository or add a new course to their profile. Unfortunately, they are usually too busy acquiring and utilizing their knowledge, leaving no time to take these extra steps.
That means for the administrators, keeping their People Directory updated feels like a hopeless task. Employees' roles evolve, they acquire new skills, and some may not even disclose their complete expertise.
Technical advances, notably from Microsoft, mean that there are now solutions that capture tacit information without additional human effort, making it much easier to capture and share in an explicit format.
That means the promise of a rich, up-to-date People Directory is now a reality. To truly unlock the potential of such a directory, it's essential to start asking the right questions:
Where exactly is your people-related data stored? Is it scattered across HRIS, ERP, IT systems, or even spreadsheets?
How seamless are the connections between these data sources? Do you have a primary system of record?
Are processes like onboarding, role transitions, and offboarding well-defined and efficient?
How updated and comprehensive are employee profiles? Do they reflect recent skills, expertise, and appropriate imagery?
The next step is to evaluate the risks of disjointed data systems within an organization based on common issues, such as:
Inaccurate Decision-Making: Misinformed decisions can steer strategies astray, leading to operational glitches.
Decreased Productivity: Employees are bogged down by cross-referencing data, detracting from their main responsibilities.
Loss of Trust: Data discrepancies can sow seeds of doubt, eroding organizational credibility.
Increased Operational Costs: Disorganized data demands additional resources for management and rectification.
Decreased Data Security: Multiple, uncoordinated systems can leave gaps in data security.
In the sections that follow, we'll delve deeper into solutions and strategies to implement technology that facilitates open knowledge exchange.
Once you have integrated and cleaned up your data sources, and have defined a dominant people data repository such as Entra ID, how do you present and search for it effectively? A key component in unlocking the potential of your organization's intellectual capital is a robust People Search mechanism. But what defines 'good' in the context of People Search?
Rich People Cards/Profiles
A comprehensive profile doesn't just list an employee's role and contact information. It can provide insights into their skills, past projects, endorsements, and more. This way, it becomes a snapshot of their professional journey, highlighting their expertise and achievements.
Microsoft has standardized People Cards across all applications, meaning the same card view is seen across Teams, Outlook, SharePoint, etc. Furthermore, you are now able to customize information on People Cards via Microsoft Graph. You can specify up to 15 custom fields, along with the data type, and how they are presented on the card.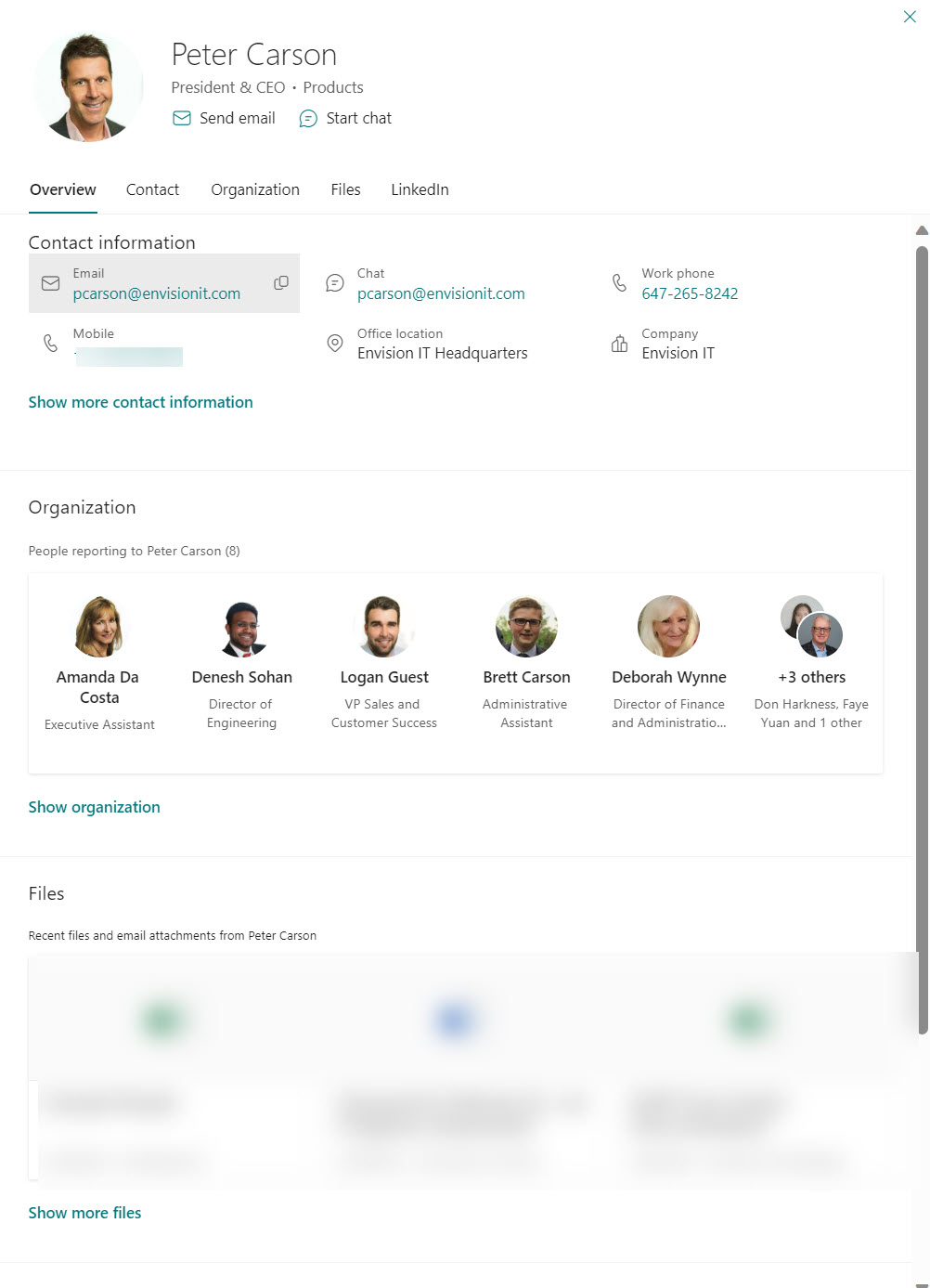 In addition to People Cards, Microsoft Delve redefined digital collaboration with its advanced features. In addition to basic employee information, users can fill out their skills/expertise, education, projects that they're working on, and more. A standout feature of Microsoft Delve is its transparency-centric approach, providing employees with visibility into what projects their peers are involved with and recently accessed documents. Benefits of this working style are numerous:
Fosters Team Synergy: By understanding the workloads and focal points of their peers, employees can better align their efforts and collaborate seamlessly.
Accelerates Knowledge Sharing: With visibility into recent documents, teams can quickly tap into relevant information without redundancy.
Efficiency: Knowing who's working on what reduces overlapping efforts, ultimately enhancing productivity.
Below is an example of a user profile in Microsoft Delve: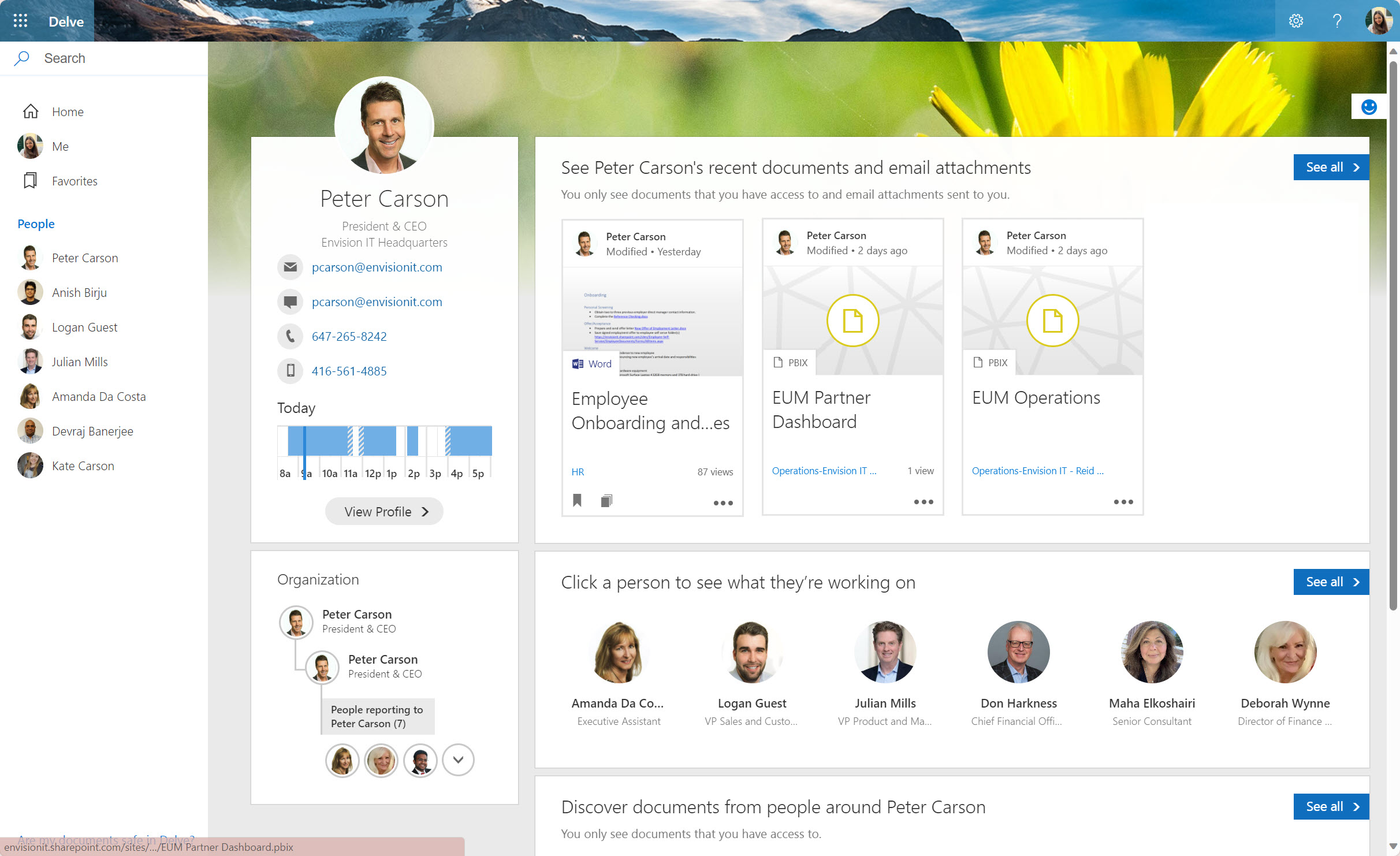 Organizational Charts
Visual representations, like org charts, offer a quick understanding of the hierarchical structure and team dynamics. This provides an efficient way to identify decision-makers, team leads, and the interplay between different departments.
When adding a modern page to a SharePoint Online site, adding an Organization Chart web part is now very easy. Searching for employees by name or email is also supported, and an individual's People Card will display when their profile is selected.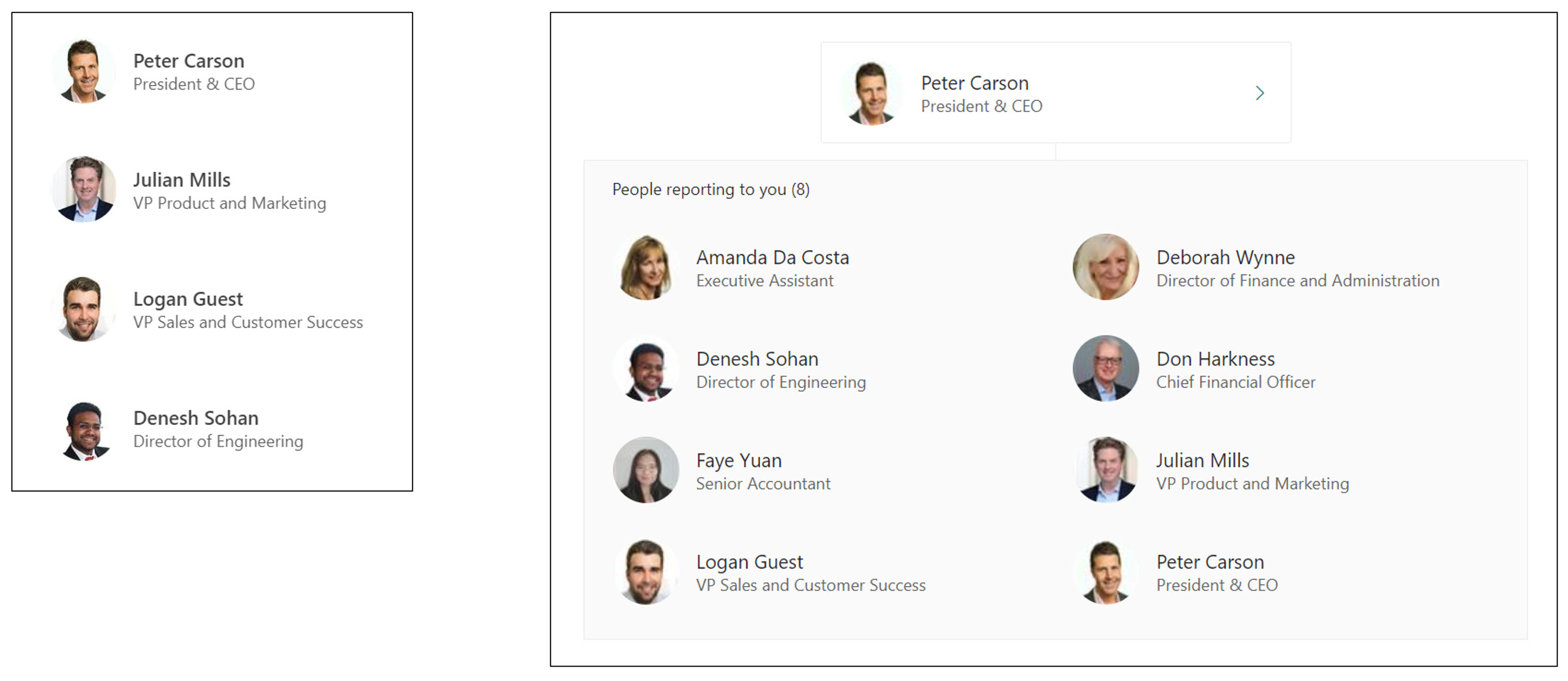 People Directory/People Search
Beyond individual profiles, a consolidated directory offers a bird's eye view of the entire organizational talent pool. It enables quick filtering based on specific criteria, making talent allocation and team building more streamlined. In essence, a good People Search tool is more than just a search bar. It's a comprehensive, intuitive, and efficient way to tap into the collective knowledge of the organization.
Yannick Reekmans, Microsoft 365 Development & Business Applications MVP and current Managing Partner and Cloud Solution Architect at Qubix, developed a SPFx webpart built on top of Microsoft Graph. Unlike other search tools, this one meets several common requirements:
Rich Person Cards: The web part displays detailed cards, offering a snapshot of each individual, encompassing their skills, expertise, education, ongoing projects, and more.
Free Text Search: Users can easily conduct searches using free text, making the search process more intuitive and efficient.
Live Person Card (LPC) on Hover: Hovering over a card reveals the Live Person Card, which showcases additional context about an individual. This feature, while not officially supported for custom developments, adds depth to the user's search experience.
Tailored Configuration: The web part offers a plethora of customization options. Users can select properties they wish to fetch, set search filters, order results, and decide on the number of person cards per page. Plus, there's the ability to connect the search box with the PnP Modern Search for input.
Efficient Data Handling: Built on Microsoft Graph, it only shows active user accounts, filtering out any redundant or outdated profiles. This ensures users always access current, relevant data, fostering better collaboration.
Styling and Display Flexibility: With options to showcase the result count, hide the web part during zero results, or even toggle between Person Card and Debug display, users can truly make the tool their own.
By employing Yannick's SPFx People Search web part, organizations can offer their teams a robust, user-friendly platform to search, connect, and collaborate more effectively. It seamlessly integrates the rich features of Microsoft Graph with SharePoint's reliable framework, promising a future where information is always at one's fingertips.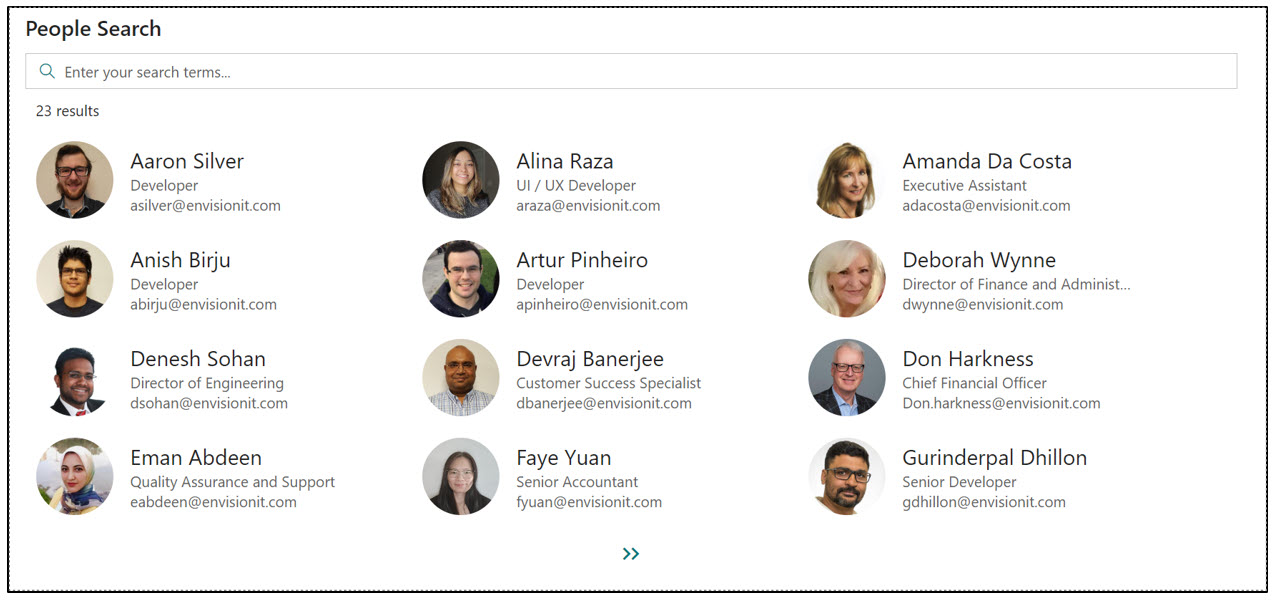 Check out our Staff Directory to see our public-facing directory built on top of Azure AD.
LinkedIn Skills Integrations
In October 2023, Microsoft unveiled a new feature in Viva: a comprehensive skills system that doubles as a learning platform, mentor-finding tool, employee development hub, and an internal mobility apparatus akin to a talent marketplace. Drawing on LinkedIn's Skills Graph and employee activity data from the Microsoft Graph, this feature provides an intuitive and evolving skillset representation. As Viva's popularity grows, it can potentially overshadow other pricey HR tech tools since it integrates seamlessly with the ubiquitous Microsoft profile, which holds crucial information from job titles to IT credentials. The feature can recommend courses, mentorships, tasks, and future job roles, leveraging insights on trending skills and other metrics. While Viva welcomes backend HR tech platforms as contributors, its convenience and integrated nature could divert attention and resources from them.
The following graphic is a diagram from Josh Bersin's Blog, depicting how back-end systems will become data feeders to Viva.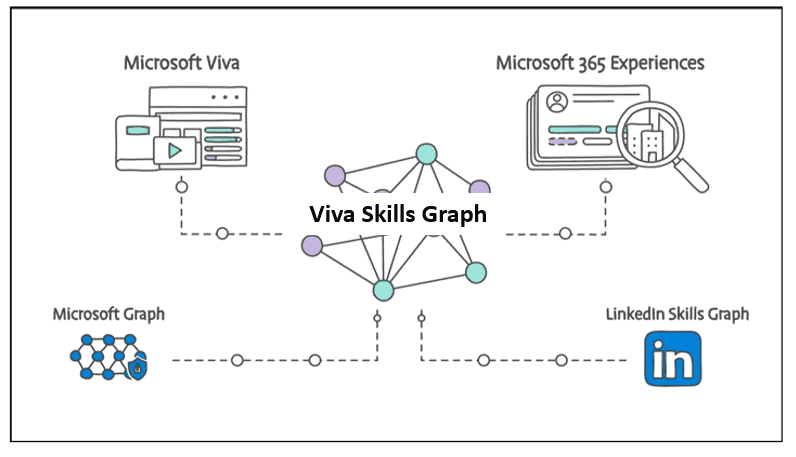 In conclusion, the underutilization of intellectual capital in organizations can significantly impede growth and innovation, particularly in the landscape of remote work and digital collaboration. This article emphasizes the critical role of a comprehensive People Directory in capturing the wealth of knowledge within an organization. By implementing systems that enable detailed People Cards, enriched by tools like Microsoft Delve and the advanced SPFx web part developed by Yannick Reekmans, organizations can foster synergy, accelerate knowledge sharing, and boost efficiency. The integration of organizational charts and robust People Search tools streamlines talent allocation, while the novel features of Microsoft's Viva, leveraging LinkedIn's Skills Graph, point to a future where learning and development are deeply integrated into the fabric of the organization. As we have explored, ensuring accurate, secure, and up-to-date people-related data is not just beneficial but essential for informed decision-making, productivity, and maintaining trust within the organization. Embracing these technological advancements will unlock the hidden wealth of knowledge in organizations, paving the way for a more dynamic, collaborative, and successful workplace.
Dive Deeper with our Webinar: Building a People Search with OOTB and Open-Source Components
Eager to dive into the nuances and harness the full potential of the strategies discussed in this article? We invite you to deepen your understanding by watching our webinar, now available for on-demand viewing. Join Peter Carson, EUM President and a distinguished 13-time Office Apps & Services MVP, as he provides an expert walk through on:
Integrating diverse people data sources into a unified Entra ID/Azure AD system.
Leveraging Out-of-the-Box (OOTB) Microsoft features and web parts for crafting comprehensive People Cards and Organization Charts.
Navigating through Open-Source and Commercial solutions to find the best fit for your organization.
Conducting a live demonstration of our implementation process, using a blend of OOTB and Open-Source components to create an effective and user-friendly employee directory.
Related Pages
---
{{#this}}
{{#if RollupImage}}
{{else}} {{/if}}
{{{hyperlink RelativeURL Title Title null}}}
{{#if EventStartDate}}
{{eventDate EventStartDate EventEndDate}}
{{/if}} {{#if PublishedDate1}}
{{generalDate PublishedDate1}}
{{/if}} {{#if RollupContent}}
{{{RollupContent}}}
{{/if}}
{{{hyperlink RelativeURL Title "Read more..." null}}}
{{/this}}