M365 Conference 2023: The rise of the robots in SharePoint and M365 apps
The largest in-person gathering of Microsoft 365 engineers and community in the world, The Microsoft 365 Conference, ran from May 1 to May 4 in Las Vegas. The community's desire for in-person engagement was evident, with an estimated 2,000 people crowding presentations, exhibitors' booths and prize giveaways. The dominant topic in those face-to-face interactions, though, was the rapid growth of non-human generated content. AI was inescapable, from conversations to Microsoft product announcements. Extranet User Manager had a front-row seat in the action. Our well-attended booth provided a welcoming space for clients and a platform in which our President, Peter Carson, interviewed Microsoft leaders and peers from partner organizations.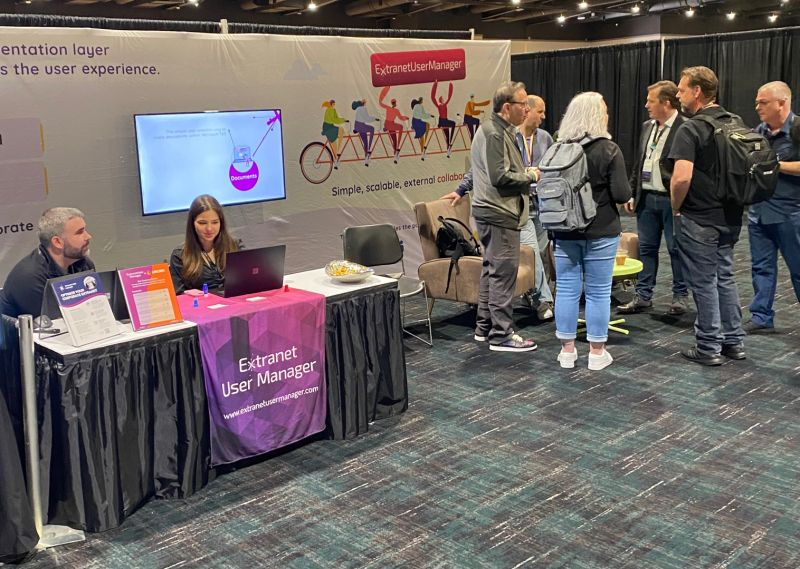 Copilot is fundamental to the Microsoft AI story. It combines large language models (LLMs) with data in the Microsoft Graph and the Microsoft 365 apps. Copilot is integrated into Microsoft 365 in two ways. It is embedded in Microsoft 365 apps like Word, Excel, PowerPoint, Outlook and Teams. It includes a new experience called Business Chat that works across the LLM, the Microsoft 365 apps, and a clients' data such as calendars, emails, chats, documents, meetings and contacts. Users can give it natural language prompts like "Tell my team how we updated the product strategy," it will generate a status update based on the morning's meetings, emails and chat threads.
The AI solution in Copilot is integrated into Microsoft 365 and automatically inherits a company's security, compliance, and privacy policies and processes. It utilizes two-factor authentication, compliance boundaries, and privacy protections. It is also architected to protect tenant, group and individual data. Within the tenant, Microsoft's permission model ensures that data won't leak across user groups. On an individual level, Copilot presents only data an individual can access.
New announcements summary
One focus for Microsoft at the conference was addressing concerns about content oversharing and governance. They revealed that in every workday, customers add over two billion new documents to Microsoft 365. As the sprawl of Teams and SharePoint sites contribute to the exponential growth of an organization's digital estate, it's important to identify the top sites that require close attention. They announced many enhancements are coming to SharePoint Data Access Governance (DAG) insights, notably site access reviews, integration with restricted access control (RAC) policy and a new EEEU (Everyone except external users) report.
Other highlights included:
Microsoft provided a proof point for SharePoint's growth — it has crossed over 200 petabytes per month — and introduced Copilot in Sharepoint. AI will help site owners, news authors, page creators and portal administrators to write, brand, publish and share content. It is built on the Copilot System, combining LMM with data in users' Microsoft Graph, all within Microsoft's existing commitments to data security and privacy in the enterprise. It includes a new brand centre in SharePoint that allows users to specify fonts, colours, logos and other design elements.
SharePoint cross-tenant content migration enables scenarios like mergers and acquisitions. It enables Sharepoint admins to move across two tenants fast while at the same time offering a seamless user experience, such as old sharing links continuing to work.
Syntex is a content understanding, processing and compliance service that uses intelligent document processing, content artificial intelligence (AI), and advanced machine learning to automatically and thoughtfully find, organize, and classify documents in SharePoint libraries. It automates content-based processes, capturing the information in business documents and transforming that information into working knowledge for an organization. Understanding your content with Syntex begins with models. Models let you identify and classify documents that are uploaded to your SharePoint document libraries and then extract the information needed from each file. One can build custom models or use prebuilt ones. Syntex also supports content assembly. A user can create modern templates based on the most used business documents. The templates automatically generate new documents using SharePoint lists or user entries as a data source.
OneDrive will be faster, organized and personalized through AI. The start experience is aware of your work and infused AI to help you work more efficiently. It will help you find the correct file, resume work and catch up on what happened.
Heard at M365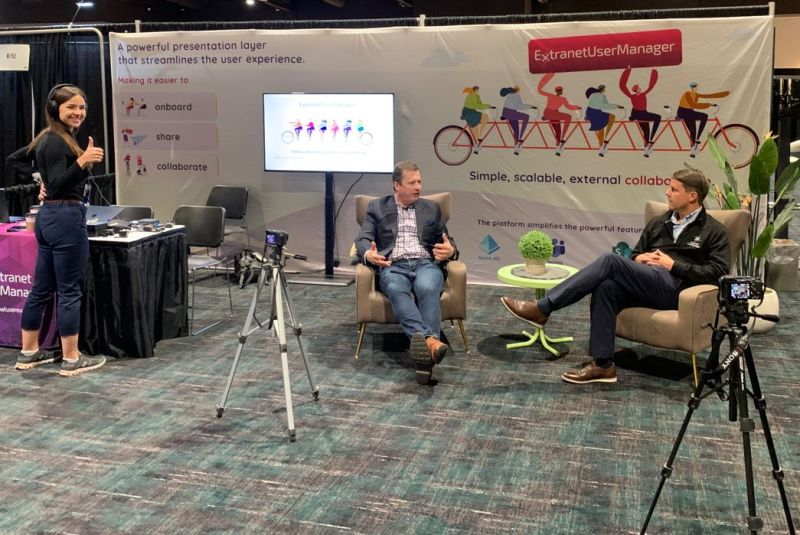 Peter Carson interviewed two key Microsoft product leaders and two partners at our booth at the M365 conference. The conversations addressed the big themes of the event and provided additional context on Microsoft's developments. Two comments are featured below, and the full conversations will be available to view on video soon.