Unstructured vs. Structured Sharing: Which one is right for you?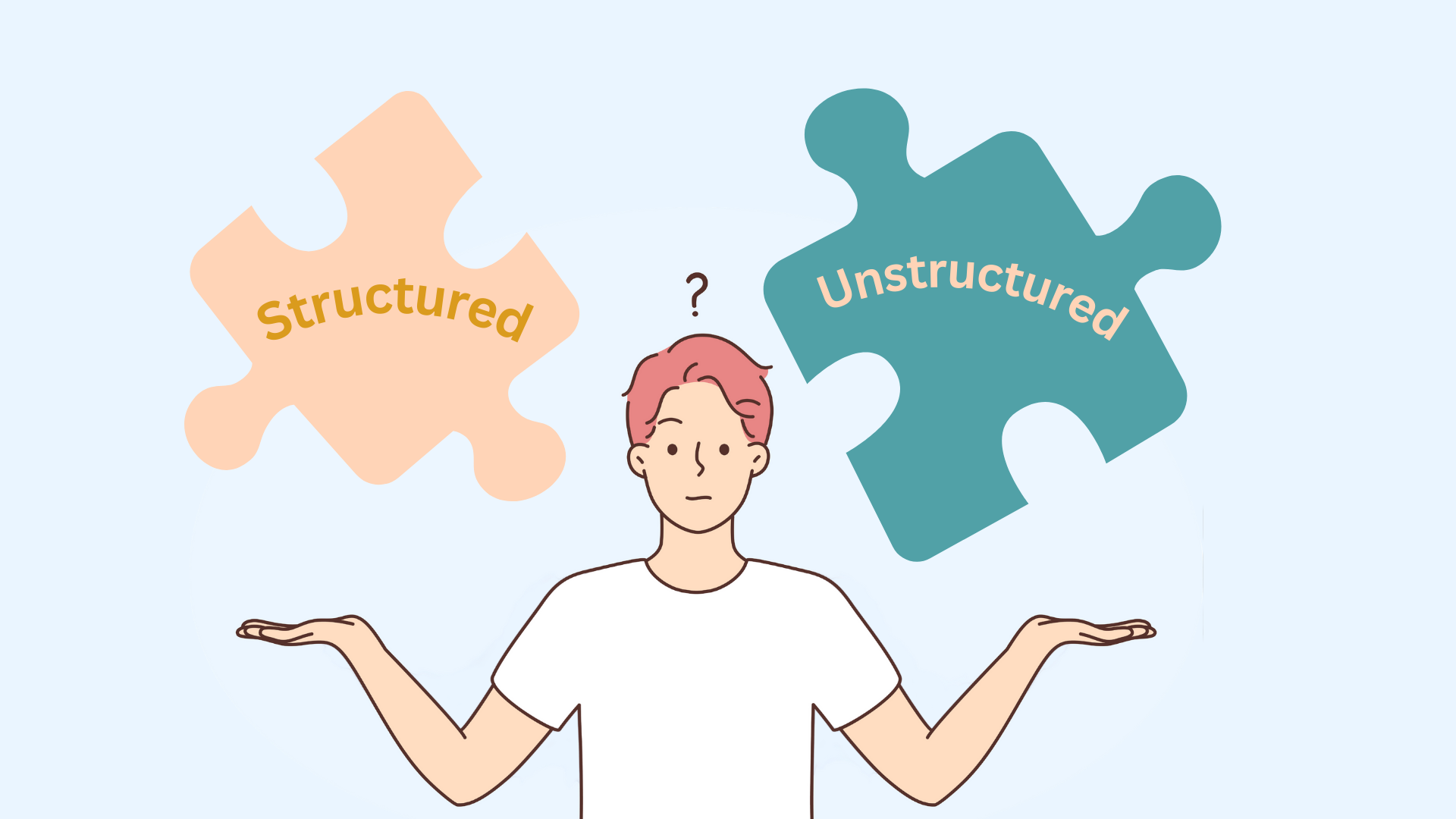 Business operations often bridge across different organizational and departmental boundaries. Here, Microsoft 365 offers a nifty solution: the ability to share data and collaborate, both internally and externally. But what does sharing mean, and how does it work for diverse users?
Unveiling Unstructured Sharing
Unstructured sharing is often a spontaneous method of sharing documents in Microsoft 365 with external collaborators, ranging from one to a handful of people.
Imagine you're working on a project and need feedback from some external partners or freelancers. Using tools like OneDrive for Business, SharePoint Online, and Teams Shared Channels, you can easily and securely share documents, solicit files, and collaborate.
OneDrive for Business: Offers a "Request Files" feature, a kind of digital postbox, where you invite people to drop files. The security here is noteworthy: uploaders can only view their content, making it a confidential way to receive files.
SharePoint Online: Allows you to create and share links, giving external users the right to read or edit documents while maintaining control over access levels.
Teams Shared Channels: Facilitates cross-organizational collaboration, allowing external users to partake in discussions and share files without cumbersome switching between different environments.
How Structured Sharing Enables Robust Collaboration
Structured sharing, on the contrary, is methodical and is usually employed when dealing with a larger external audience, which could be in the hundreds or thousands. This kind of sharing is typically engaged in larger-scale projects involving multiple stakeholders, committees, customers, or partners.
Options for implementing structured sharing are varied, and each has its own pros and cons:
Roll Your Own: This bespoke method involves integrating through APIs but requires substantial development expertise and time.
Azure AD: Provides a structured onboarding process with some room for branding and customization. However, its complexity can be a barrier to non-tech-savvy external users.
Extranet User Manager: Offers a fully brandable and customizable platform that allows you to manage users and groups effectively. EUM places user management in the hands of business users, supporting diverse user onboarding methods, including invitation, self-registration, approval workflows, and other custom scenarios.
Leveraging Data Rooms for Structured Sharing
An emerging use case that crosses multiple industries is structured sharing based on repeatable business processes. Whether it's a client exchanging their tax return with their financial planner, an entrepreneur sharing their confidential business plan with a VC, an established business submitting a performance report to a government agency, or a law firm coordinating a Mass Tort, there is almost no industry that doesn't need to share, jointly edit, and track documents. Data Room, an implementation within EUM, emerges as an intriguing tool for secure document distribution and collection. It's like a neatly organized virtual room where various documents can be securely shared, submitted, and stored.
Let's illustrate with a scenario: In a business unit handling mergers and acquisitions, each acquisition case (or "data room") demands its own unique set of documents. Through EUM Admin, a data room is requested, and a Microsoft Team is automatically provisioned, keeping individual data rooms private and tailored to each acquisition discussion.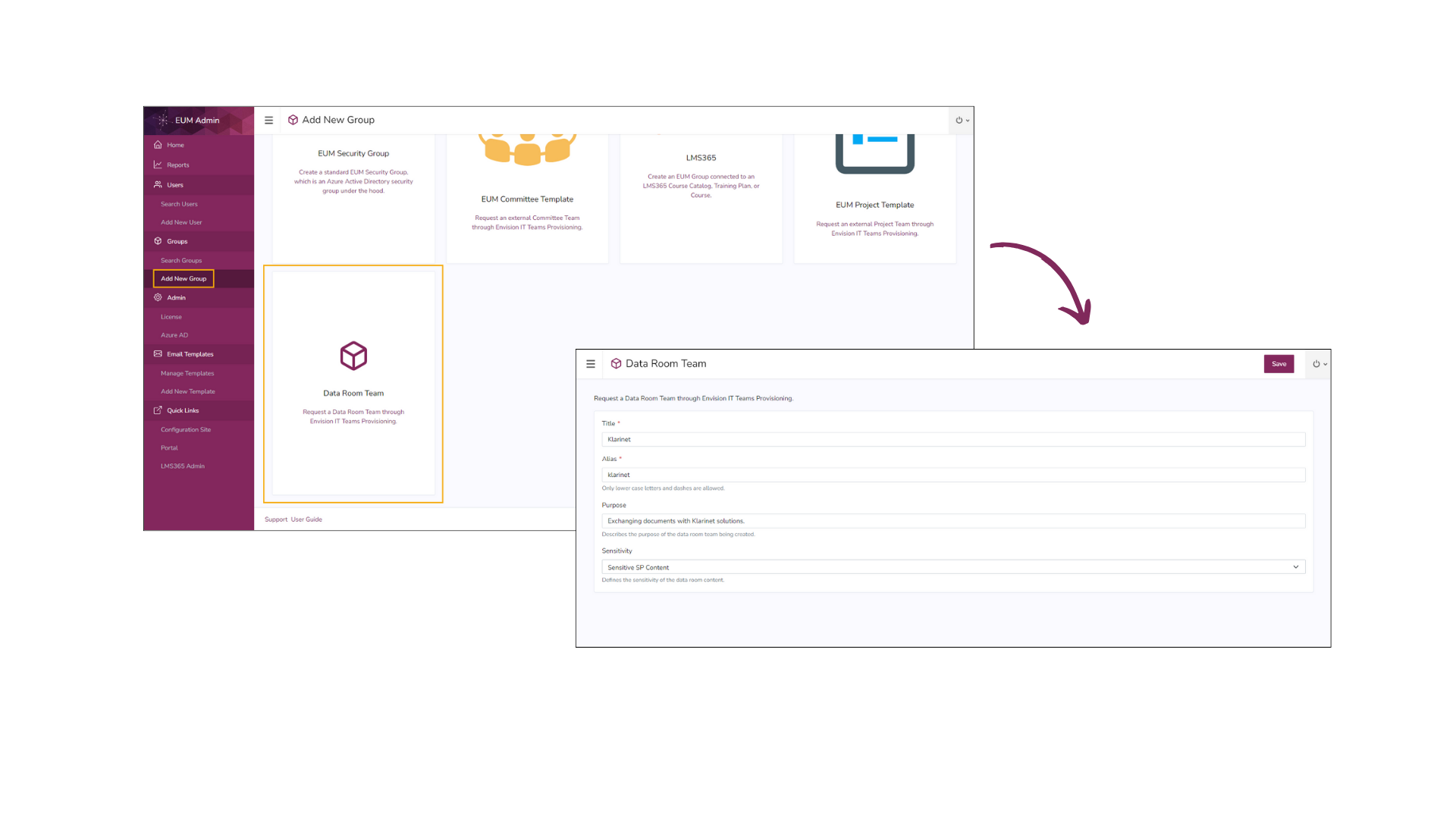 Moreover, the EUM Portal delivers an intuitive user experience for external users, simplifying document upload processes and facilitating seamless collaboration without diving into the more complex SharePoint Online interface.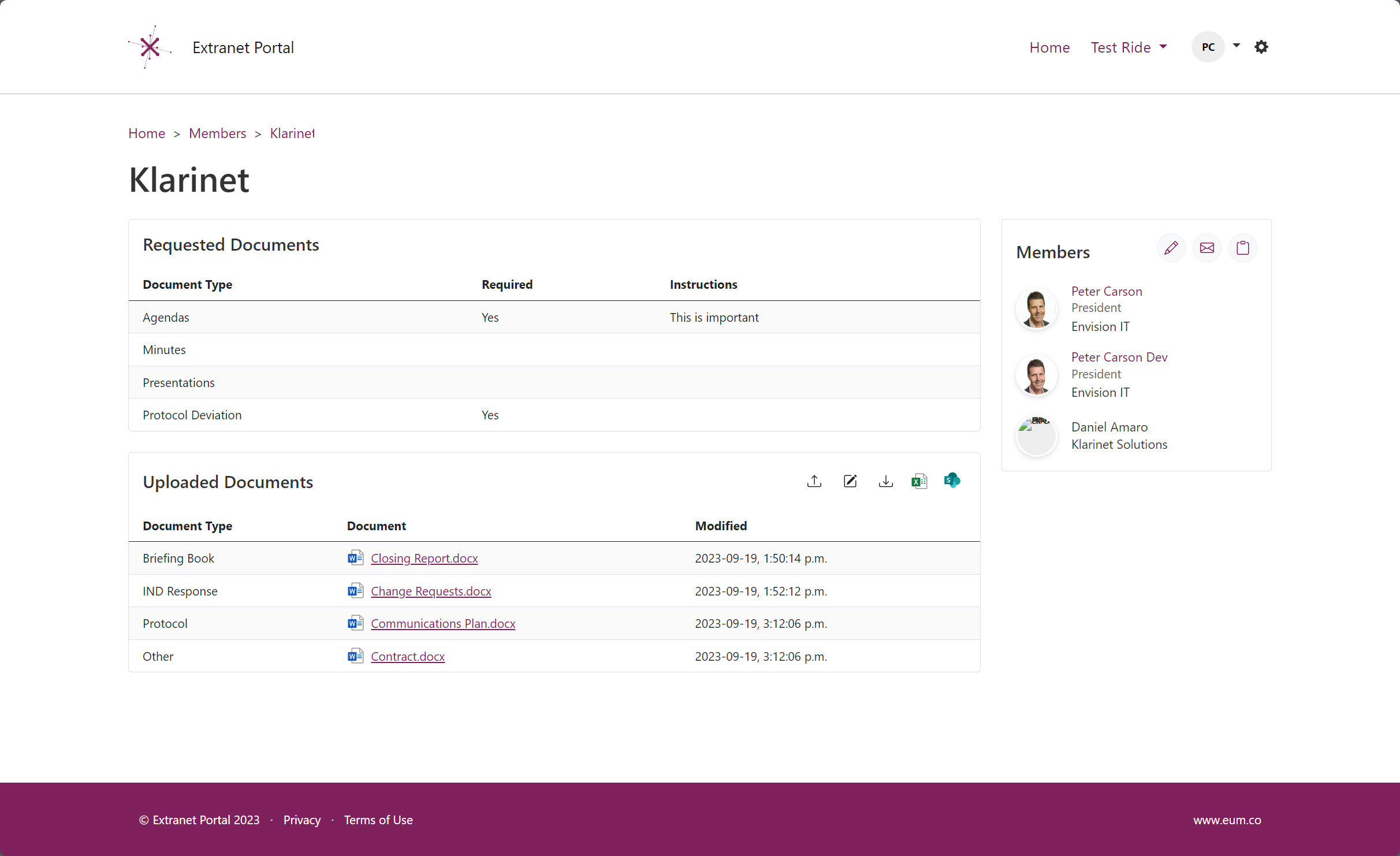 Bringing It All Together: Achieving Seamless Collaboration
To sum up, whether it's unstructured sharing for quick, ad-hoc collaboration or structured sharing to manage larger external user groups, Microsoft 365 offers varied solutions catered to unique business requirements. The choice between unstructured and structured sharing essentially boils down to the scale and nature of collaboration.
Data Rooms, with its structured yet user-friendly approach, offer a harmonious blend, ensuring secure, organized, and easily navigable data sharing and collaboration spaces, enhancing user experience while optimizing return on investment in the Microsoft 365 platform.
Related Pages
---
{{#this}}
{{#if RollupImage}}
{{else}} {{/if}}
{{{hyperlink RelativeURL Title Title null}}}
{{#if EventStartDate}}
{{eventDate EventStartDate EventEndDate}}
{{/if}} {{#if PublishedDate1}}
{{generalDate PublishedDate1}}
{{/if}} {{#if RollupContent}}
{{{RollupContent}}}
{{/if}}
{{{hyperlink RelativeURL Title "Read more..." null}}}
{{/this}}