Microsoft 365 Conference Las Vegas 2023
3799 Las Vegas Blvd S, Las Vegas, Nevada 89109, United States
The Microsoft 365 Conference is the largest, in-person gathering of Microsoft engineers and community in the world. Meet peers from around the world to share knowledge and experience. You'll be guided by Microsoft product team members and industry experts as you learn what you need to create the inclusive, hybrid workplace of the future.
Dive deep into Microsoft Viva, the employee experience platform. Learn what's new in Microsoft Teams. Discover the latest innovations in Power Platform and Microsoft Syntex plus so much more directly from Microsoft's product leaders including Karuana Gatimu, Heather Cook, Naomi Moneypenny, Mark Kashman, and Dan Holme. Gain real-world insights from Microsoft MVPs, and community partners. No other event offers the breadth, the depth, and the practical guidance you'll find at the Microsoft 365 Conference.
As a part of the community, you won't want to miss surprising evening get-togethers, Jeff's Q&A with the team, the largest M365 Expo Hall, and the exciting attendee party celebration.
Extranet User Manager is excited to be attending with our team! And we will have a booth set up at the conference as well. If you're attending make sure to stop by the booth and say hi. We look forward to meeting in person and having some meaningful discussions.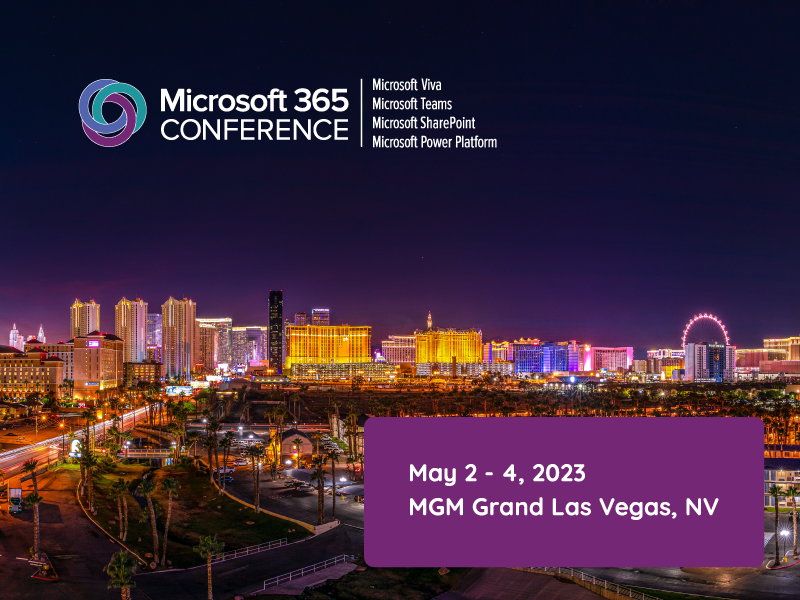 Related Pages
---
{{#this}}
{{#if RollupImage}}
{{else}} {{/if}}
{{{hyperlink RelativeURL Title Title null}}}
{{#if EventStartDate}}
{{eventDate EventStartDate EventEndDate}}
{{/if}} {{#if PublishedDate1}}
{{generalDate PublishedDate1}}
{{/if}} {{#if RollupContent}}
{{{RollupContent}}}
{{/if}}
{{{hyperlink RelativeURL Title "Read more..." null}}}
{{/this}}