Simplify your Board and Committee Management with Microsoft 365
Discover simple and efficient board and committee management with Extranet User Manager's innovative and robust solution. By extending your Microsoft 365 investment, EUM's Boards and Committees solution package offers simplified, user-friendly portals for professional organizations, associations, and governing bodies. With frictionless onboarding and customized package distribution based on members' Microsoft licenses, this solution streamlines engagement. IT ensures a seamless integration, empowering portal administrators to focus on managing effective board and committee interactions.
Frictionless User Management & Login
Extranet User Manager (EUM) makes permissions management and user onboarding simple. Built on top of Azure AD B2B, it offers a fully customized and seamless onboarding experience for your committee members. No more worries about credential management, as members can sign in effortlessly with their own personal or corporate email. Authenticating against Azure AD allows them to log in with Single sign-on (SSO) or One-TIme Passcode, providing a seamless experience. In addition, EUM Admin enables delegation of user management, allowing designated committee admins to add and remove users without needing any privileges in your Azure portal.
The image below shows User Manager configured so each EUM Group represents a board or committee in the EUM Portal. Admins can invite members into the portal, which automatically sends a custom Welcome Email to the user(s). The Welcome Email can be authored directly in the User Manager tool with our rich, no-code editor tool.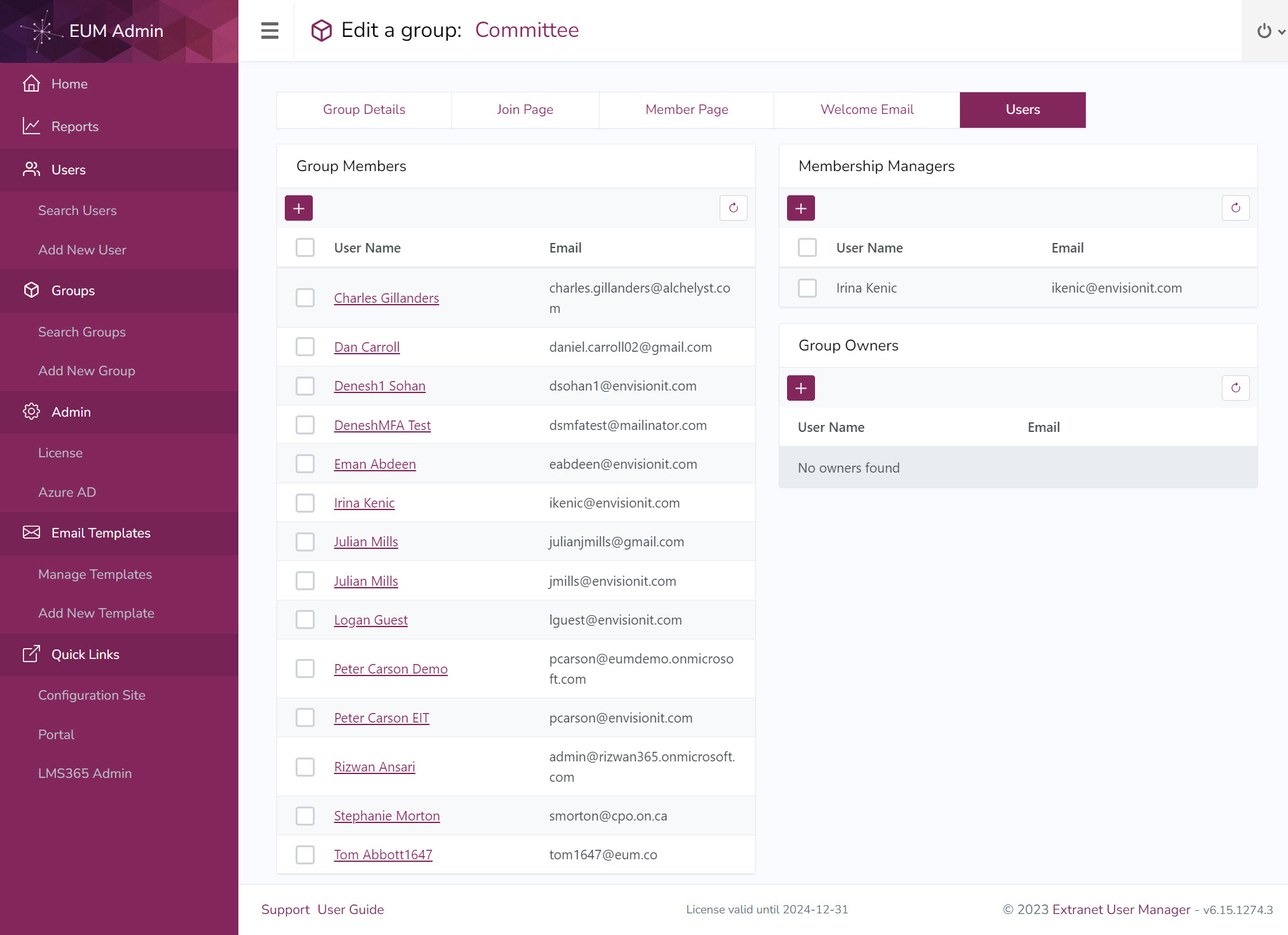 With the Azure AD users and groups Power BI Dashboard, admins gain valuable insights into member and group activity, user sign-ins and more, empowering them to provide prompt support to their users. By leveraging these features, business users directly involved with partners can manage what they access, without needing to burden IT to configure permissions manually. With User Manager, you can embrace the benefits of simplified user management, increased efficiency, enhanced security, and an optimized end-user experience.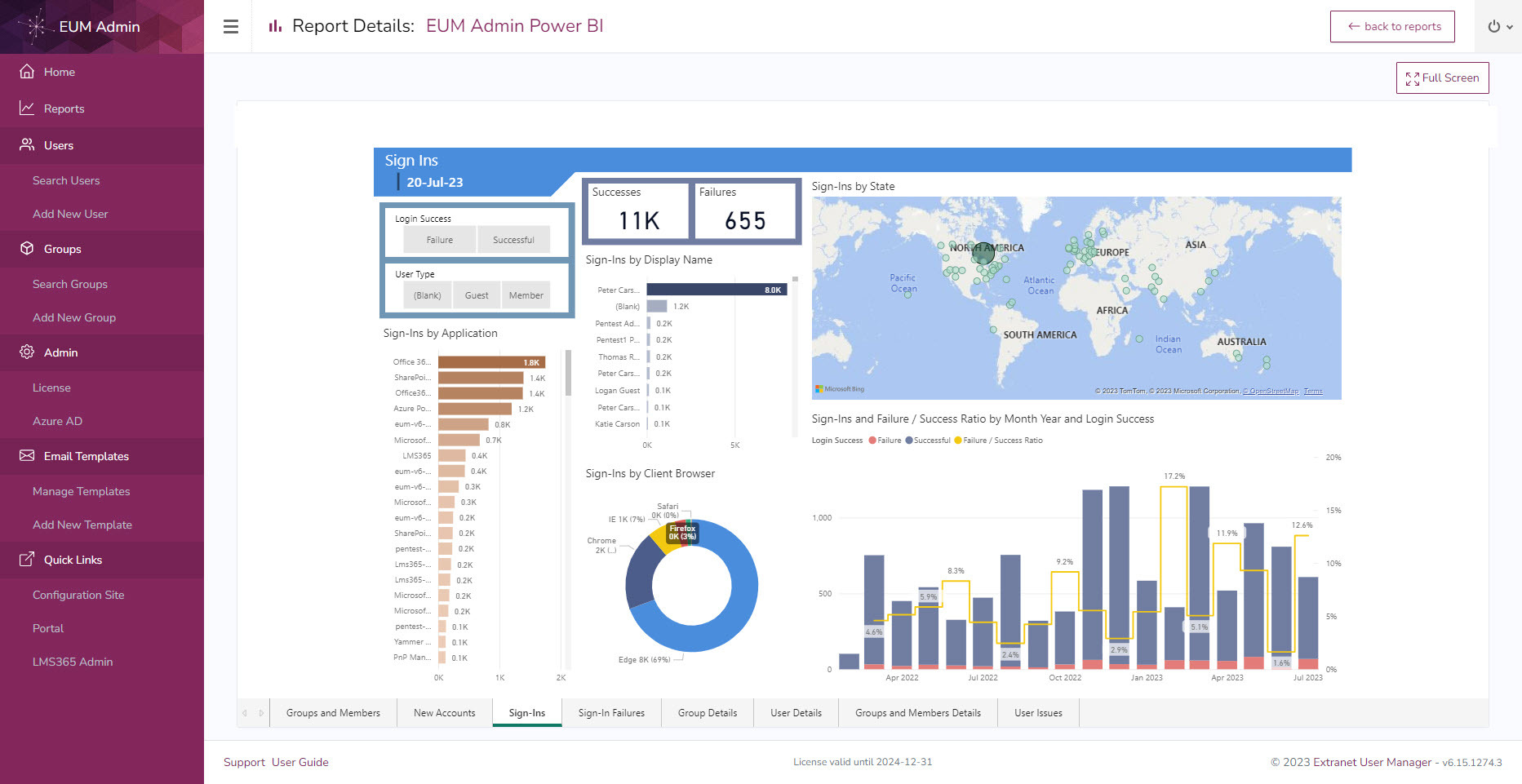 Committee Meetings & Packages
Unlock simple yet effective board and committee management with EUM Portal's optimized Committee template. This template allows admins to easily manage user memberships, meetings, and documents.
Additional features of the Committee template include:
Author rich text on the committee page with EUM's built in CMS
Links to important documents or files relevant to the committee
Link to a SharePoint library of archived documents
Lists of upcoming and previous committee meetings, linked to the details
Main committee contact
List of committee members, and optionally their contact information
The Committee template allows admins to create committee meetings within seconds! A new web form makes setup easier than ever - input details and trigger a workflow. Enjoy automatic creation of Microsoft 365 calendar meetings and Teams meetings, if necessary, along with a designated document folder. Once approved, committee members are seamlessly added. Documents enhances the experience, presenting meeting documents with SharePoint's Document Sets. This ensures an organized, efficient, and integrated management approach.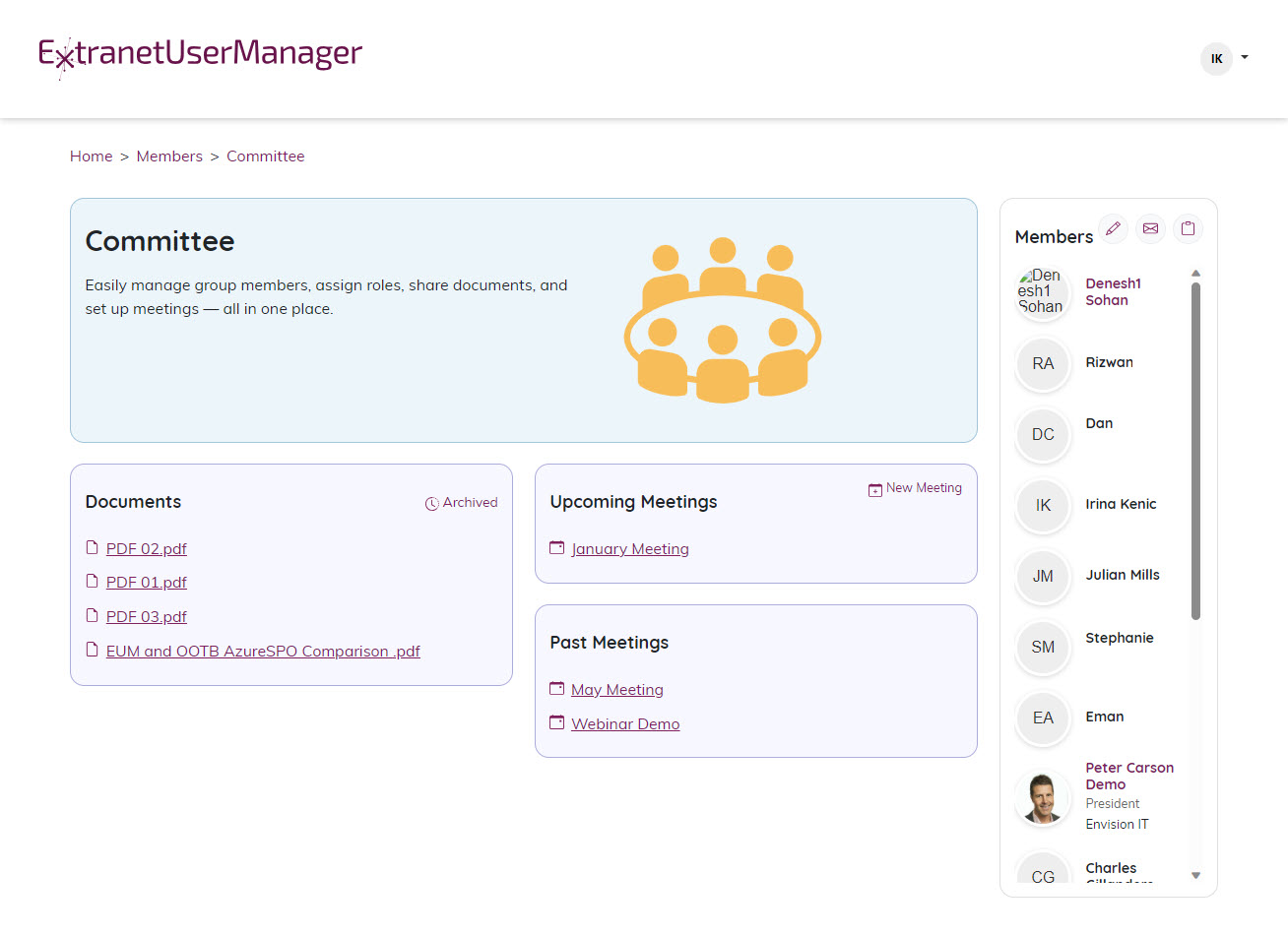 Automate Committee Workspace Provisioning
Instantly set up collaborative spaces, provision Microsoft Teams and SharePoint sites through a user-friendly form. With EUM, you can automate these processes while customizing templates to your needs, or using the default templates in EUM Admin. This approach prevents tenant sprawl, ensuring consistent setups for each committee.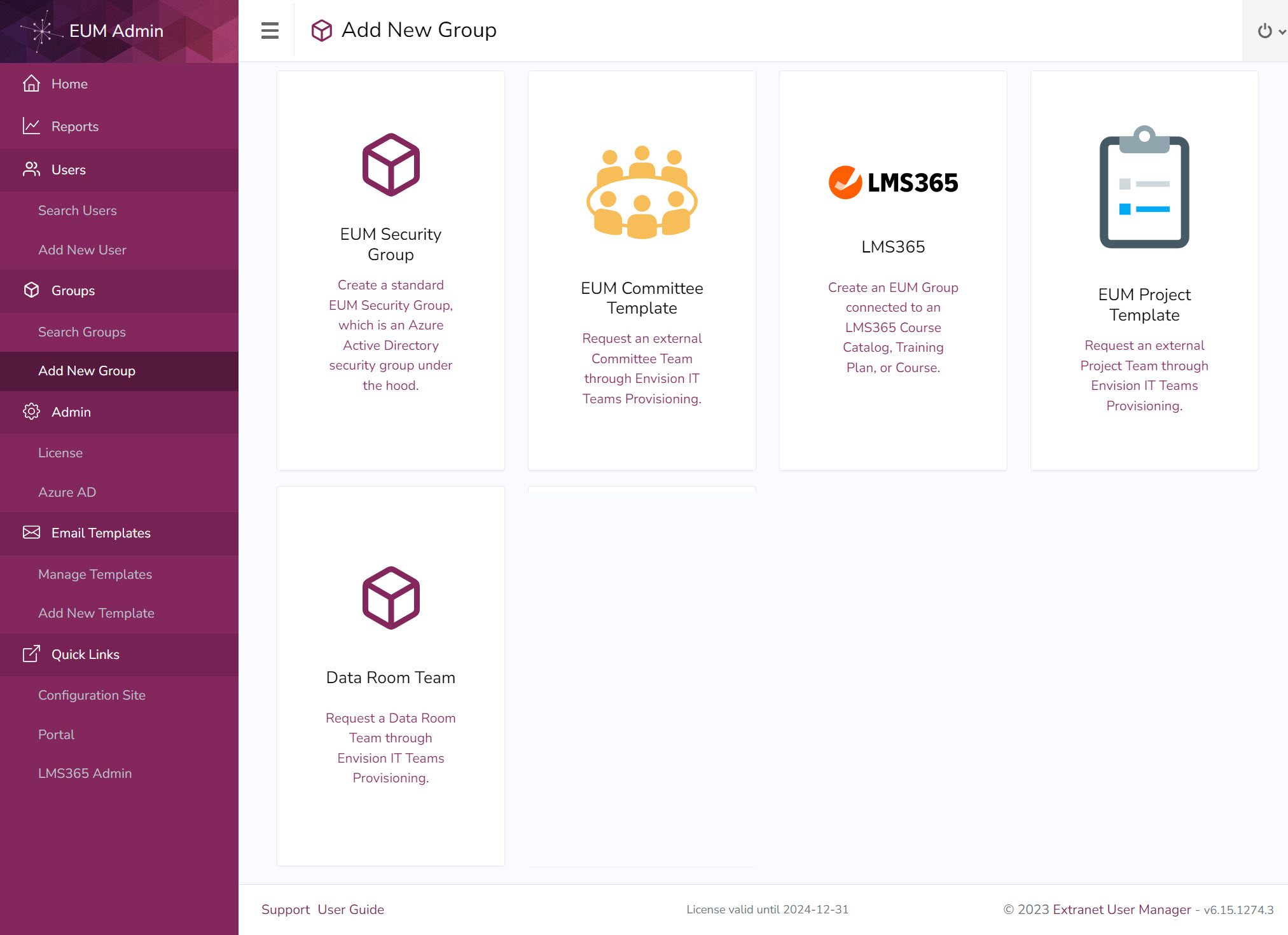 A new committee is initiated with a user-friendly form; upon submission, a Logic App triggers Microsoft 365 Group creation, which can be SharePoint sites, OneNote, Exchange calendar and/or mailbox, and a dedicated Committee Group with a Members Summary page, all seamlessly aligned with your workspace requirements.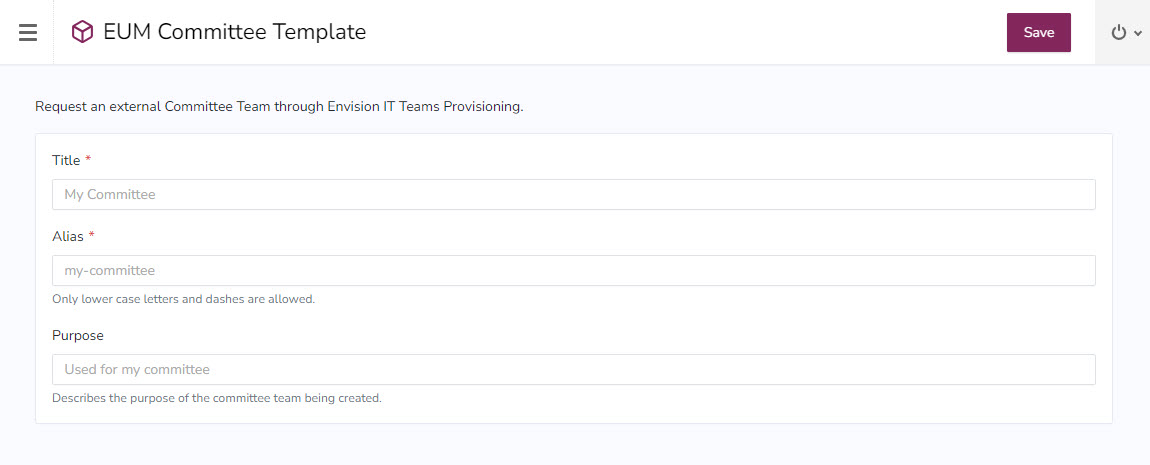 Intuitive Document Sharing & Co-Authoring
Experience simplified document sharing and archiving with EUM Documents, a simplified UI that sits on top of SharePoint Online. Easily upload, download, and co-author documents for seamless teamwork. Our archiving and tagging features ensure organized data, making document retrieval a breeze, unlike searching through cluttered inboxes. Bid farewell to insecure email sharing and data leaks, as version control and document recall are effortless with EUM Documents. Your board and committee members and admins save time and boost productivity with a secure and efficient document management solution.
By leveraging SharePoint Document Sets and Lists, you can be confident that all the files being shared and co-authored have a two-way sync with the documents in the underlying SharePoint Online, and vice versa. Using a simpler UI enables a superior user experience, because the documents can be presented in an intuitive and pared-down way, rather than inviting external users into your SharePoint Online and having them navigate through an unfamiliar and complex information architecture.
Profile Management & User Directory
Enhance your board and committee's digital communities be leveraging EUM's Profile Management and User Directory features. Members can update their profiles and opt into the member directory, ensuring accurate user information with Azure AD integration, while maintaining their privacy preferences. Utilizing a member directory can enhance committee collaboration by simplifying communication and engagement between members, ultimately fostering a cohesive digital community.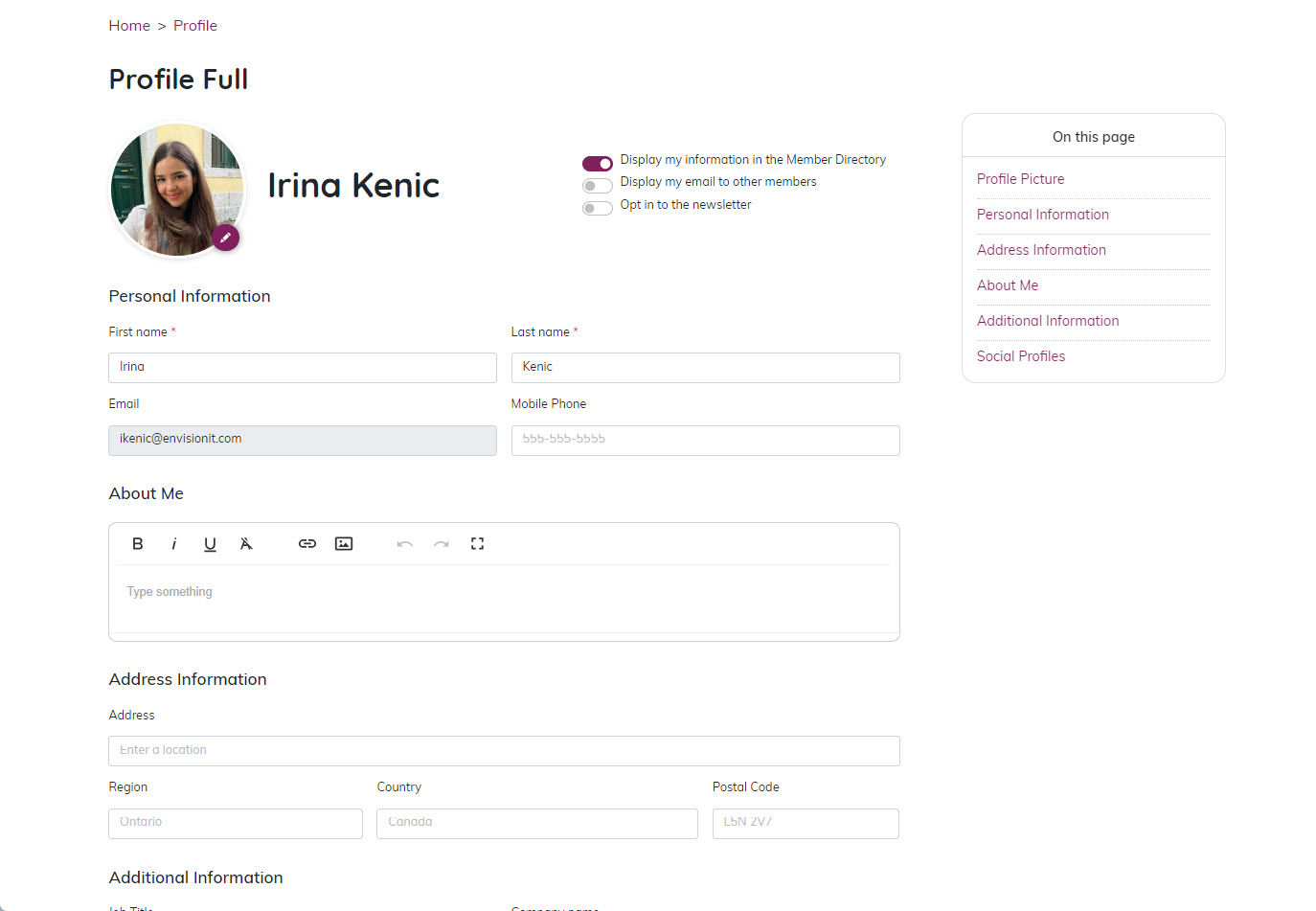 Interested in learning how you can benefit from simplified board and committee management? Book a demo with us below!