Unlock Collaborative Success with a Powerful Microsoft 365 Partner Portal
Unlock the true potential of your business partnerships with Extranet User Manager's cutting-edge Partner Portal solution built on Microsoft 365. In today's fast-paced business landscape, effective collaboration with partners is the key to driving growth and achieving mutual success. However, businesses often face challenges in streamlining communication, securely sharing data, and maximizing the value of their Microsoft 365 investment. That's where EUM's partner portal comes into play, offering a comprehensive platform that addresses these needs and more. By leveraging Microsoft 365's line of business systems, organizations can unlock unparalleled efficiency, seamless collaboration, and increased ROI on their Microsoft investment.
Let's explore how this feature-rich partner portal empowers businesses with enhanced collaboration, secure data sharing, streamlined resource access, and much more, revolutionizing the way partnerships thrive in the digital era.
Frictionless User Management and Login
Extranet User Manager (EUM) makes permissions management and user onboarding effortless. Built on top of Azure AD B2B, it offers a fully customized and seamless onboarding experience for your partners. No more worries about credential management, as partners can sign in effortlessly with their own personal or corporate email. Authenticating against Azure AD allows them to log in with SSO or One-TIme Passcode, providing a seamless experience. In addition, EUM Admin enables delegation of user management, allowing partner-designated users to add and remove users without needing any privileges in your Azure portal. With the Azure AD users and groups Power BI Dashboard, admins gain valuable insights into member and group activity, user sign-ins and more, empowering them to provide prompt support to their users. By leveraging these features, business users directly involved with partners can manage what they access, without needing to burden IT to configure permissions manually. With User Manager, you can embrace the benefits of simplified user management, increased efficiency, enhanced security, and an optimized end-user experience.
The image below shows User Manager configured so each EUM Group represents a partner site in the Partner Portal. Admins can invite partners into the portal, which automatically sends a custom Welcome Email to the user(s). The Welcome Email can be authored directly in the User Manager tool with our rich, no-code editor tool.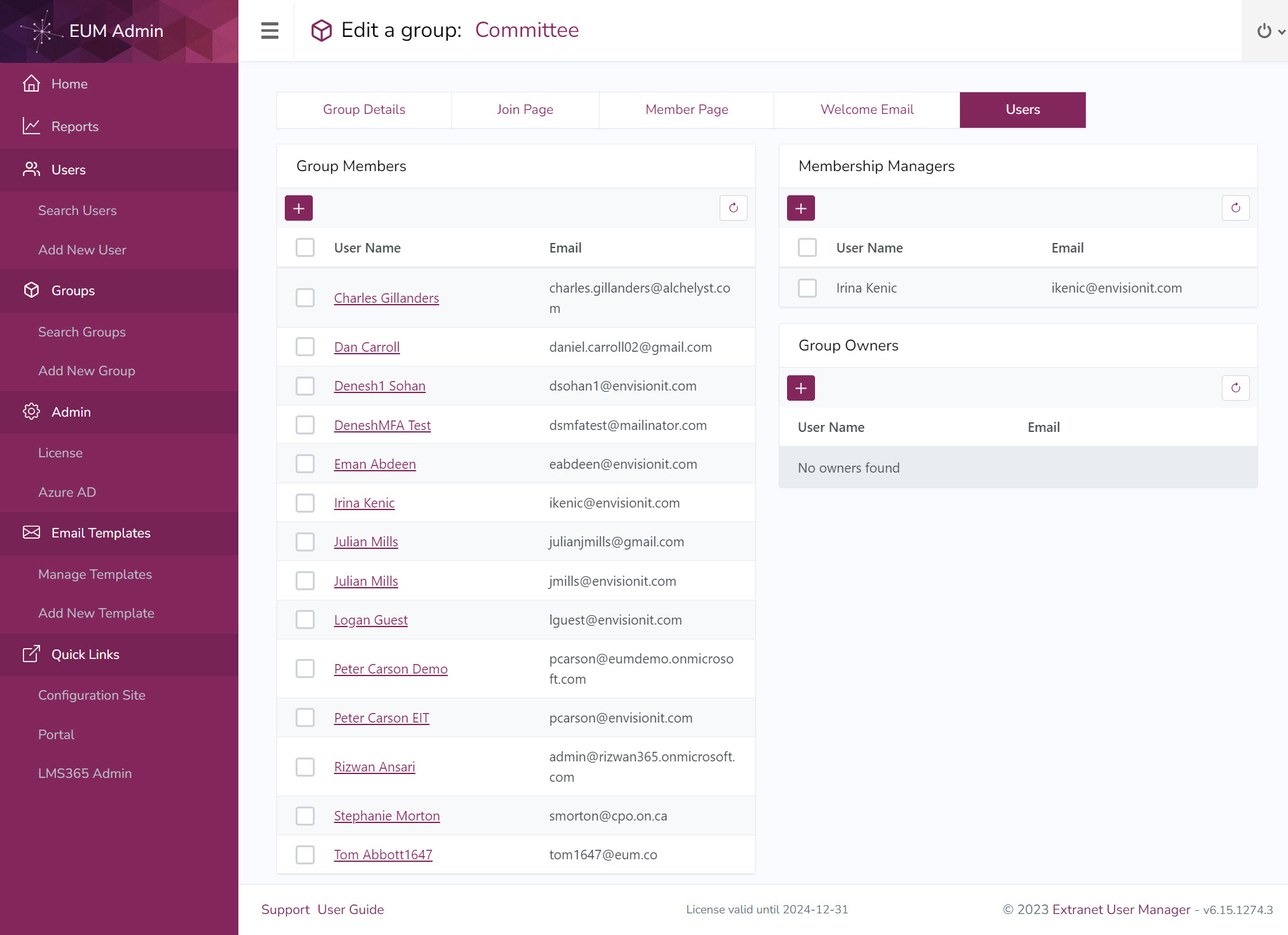 Partner Dashboard for User-Friendly Pipeline Review and Client Analytics
Easily track and manage your sales pipeline with the portal Partner Dashboard. This dynamic feature empowers partners to visualize their opportunities through Power BI Embedded charts, enabling insightful data exploration. Stay informed about joint revenue to date, pipeline status and opportunity details at every stage. The user-friendly interface allows effortless lead registration, with the ability to generate quotes automatically based on provided lead information, streamlining the sales process for unparalleled efficiency.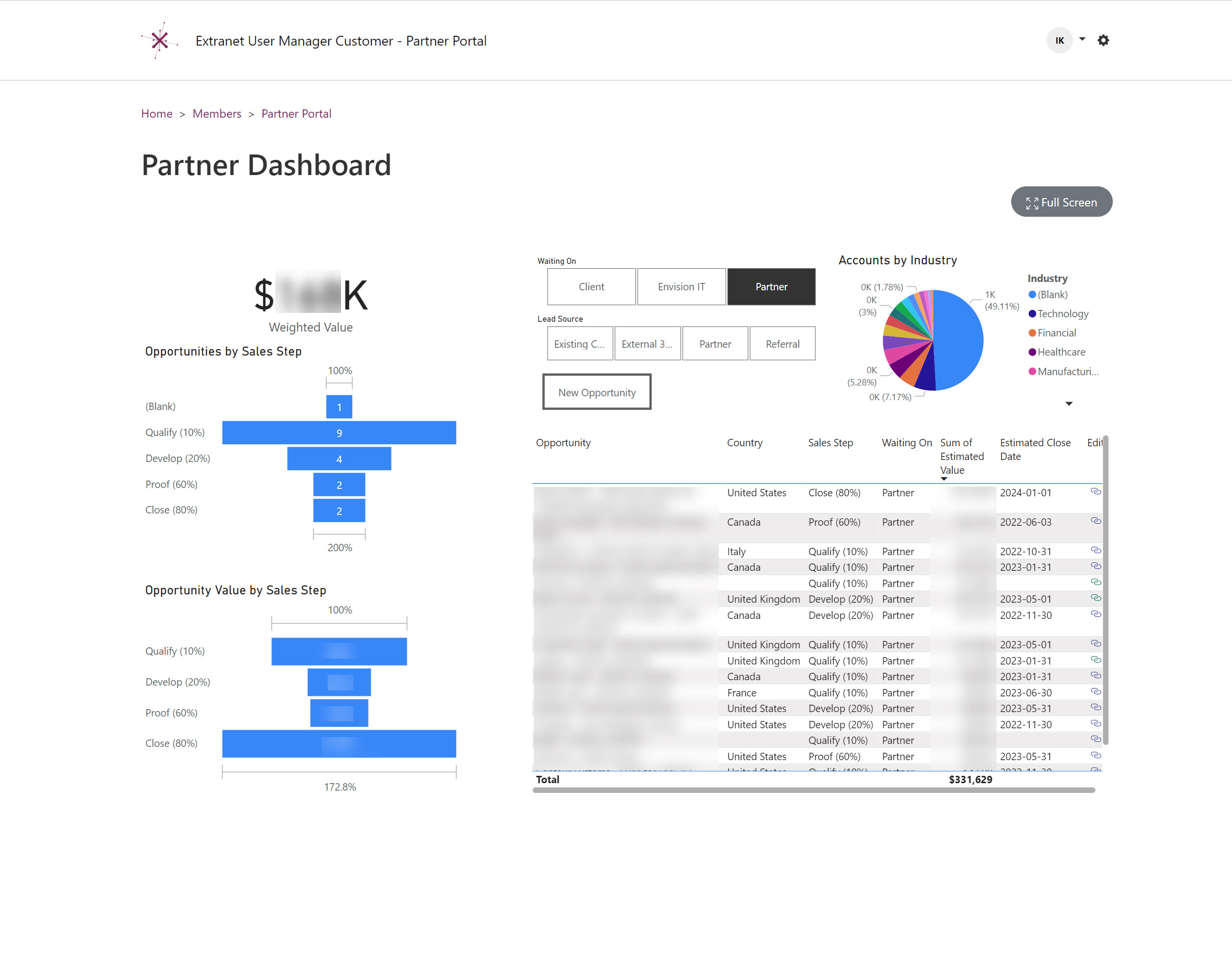 Below is a sample of the lead registration form, tailored to EUM's specific needs. The pricing updates dynamically, based on the values inputted in the fields. This can be fully customized to provide a quote based on your organization's pricing model, or can be removed from the lead registration form altogether. Once the registration form is submitted, the lead record and opportunity are created in the organization's underlying Dynamics 365 environment. In doing so, internal stakeholders are instantly made aware of pipeline updates and can provide timely support to partners. Integrating partner portal workflows with an underlying CRM ensures that there is no duplication of effort, thus enhancing operational efficiencies and ensuring the lead/opportunity data is consistent across all platforms.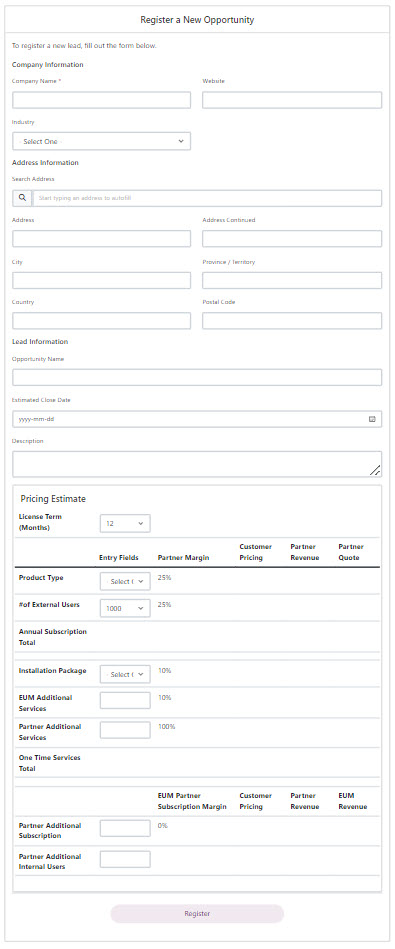 Intuitive Document Sharing and Co-Authoring
Streamline your project collaboration with EUM Documents, a simplified UI that sits on top of SharePoint Online. Easily upload, download, and co-author documents for seamless teamwork. Our archiving and tagging features ensure organized data, making document retrieval a breeze, unlike searching through cluttered inboxes. Bid farewell to insecure email sharing and data leaks, as version control and document recall are effortless with EUM Documents. You and your partners save time and boost productivity with a secure and efficient document management solution.
By leveraging SharePoint Document Sets and Lists, you can be confident that all the files being shared and co-authored have a two-way sync with the documents in the underlying SharePoint Online, and vice versa. Using a simpler UI enables a superior user experience, because the documents can be presented in an intuitive and pared-down way, rather than inviting external users into your SharePoint Online and having them navigate through an unfamiliar and complex information architecture.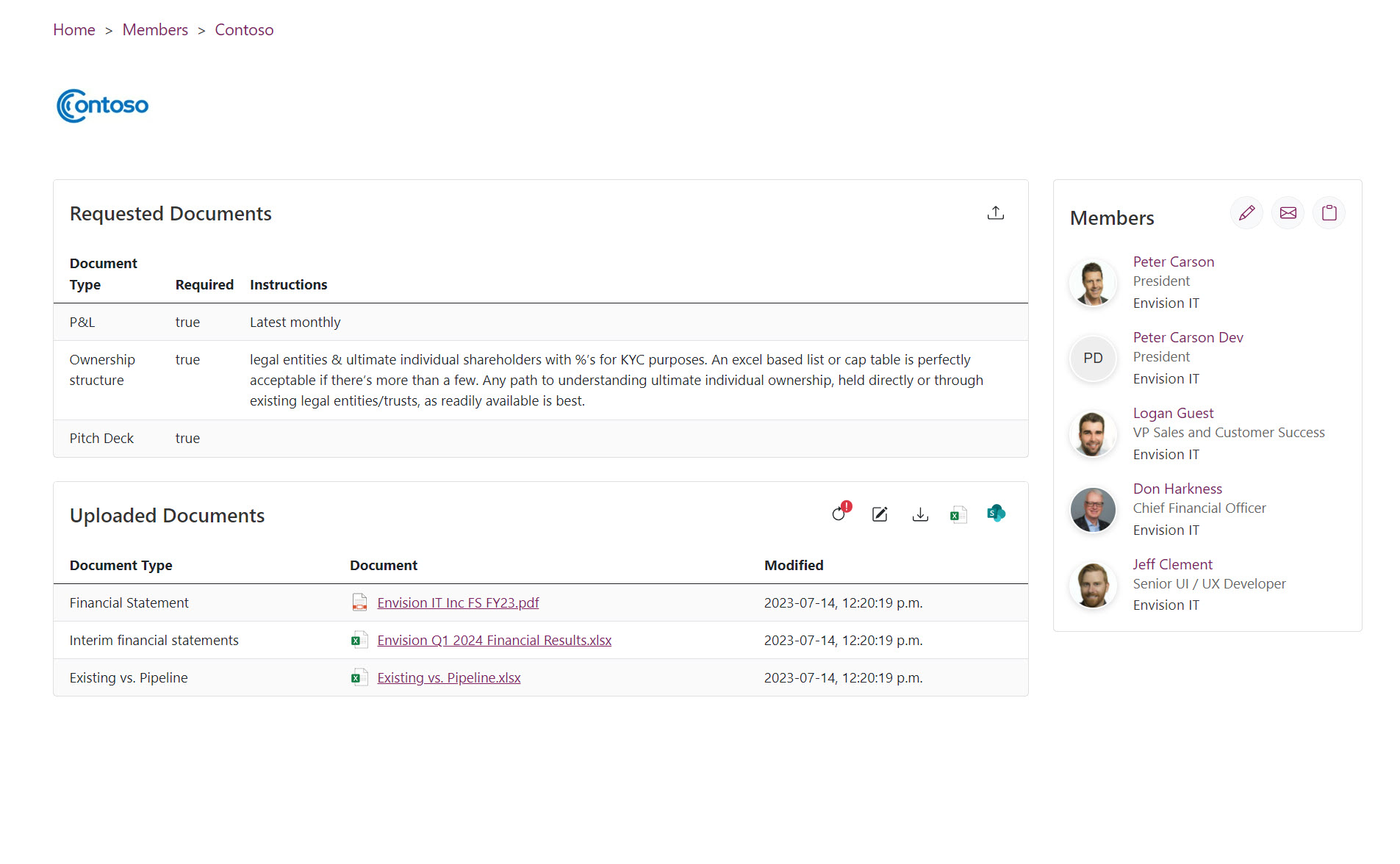 Sales and Marketing Asset Library
No partner portal is complete without a comprehensive sales and marketing asset library. Here, your partners can access the latest sales decks, handouts, documentation, guides, co-brandable assets, and any other resources that your organization provides to partners. This asset library is powered by EUM Documents, allowing admins to tag assets for easy filtering, easily upload new files and maintain version control, share edit-access documents for easy co-branding, and much more. Streamline your partner sales process and enhance joint marketing efforts with this user-friendly solution. Stay organized and informed, elevating your business efficiency and collaboration.
Partner Workspace Request and Provisioning
A key feature of the User Manager tool is providing a simple way to set up collaboration spaces in Microsoft 365, including the ability to provision Microsoft Teams and SharePoint sites from a straightforward request form. Once the required information is entered into the form, EUM's automations kick in to provision Microsoft 365 Groups that are custom templated to fit your organization's needs.
Below are some examples of EUM site templates available in the User Manager tool. Once a user fills out one of the forms, a Logic App is triggered to generate the pre-templated components included in the chosen template. This could include:
SharePoint Site
Exchange calendar and mailbox
Microsoft Team