Webinar: Microsoft Teams, Office 365 Groups, and SharePoint Sites Provisioning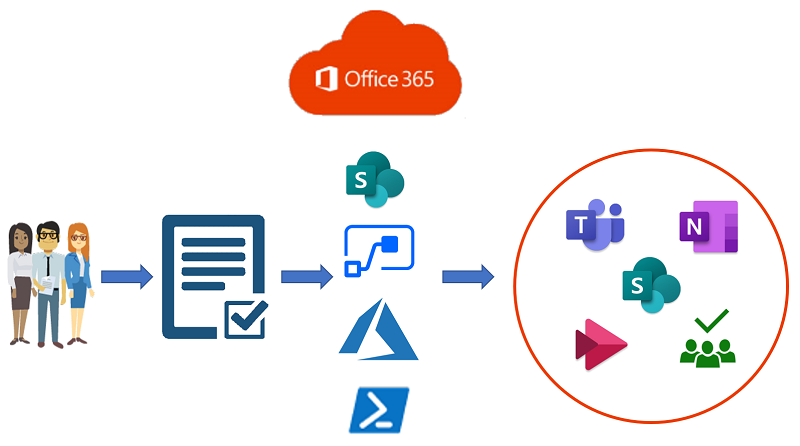 Tuesday, September 10, 2019
12 - 1 PM EDT
Watch Video
View Presentation
While Microsoft's modern experience has really come together, there are so many ways to create sites, groups, and Teams. Learn how to standardize both the approach and the result with an open source request form (SPFx), approvals (Flow), and provisioning process (PowerShell, PnP, Azure Automation). This open source solution from Extranet User Manager empowers business users to create Sites, Teams, and Office 365 Groups with appropriate structure and governance, without waiting on IT administrators to complete the process. With this foundation in place the solution is completely automated within SharePoint Online, Microsoft Flow, and Azure Automation, saving users valuable time while also maintaining control over the environment.
Next learn how you can combine the concept of channels across Teams, SharePoint, OneNote, Planner, and Streams to better organize how your staff collaborate. Through automation of tabs in Teams, sections in OneNote, plans in Planner, and channels in Streams, plus navigation in SharePoint to tie it all together, you'll see significant gains in your teams' productivity.
In this webinar we will discuss:
Office 365 Groups and Teams Governance through Provisioning
Templating Office 365 Groups and Teams Governance
The open source site provisioning project from Envision IT and Extranet User Manager

SPFx form to customize the site request form experience
Flow workflow to manage the approval and site creation initiation
PowerShell scripts to create the list, populate with existing sites, and create new sites
Azure Automation to host and run the PowerShell scripts in the cloud
For more details on our open source solution, please visit our Site Provisioning Overview page.
Speaker