MBNCanada Resources
About MBNCanada
The Municipal Benchmarking Network of Canada (MBNCanada) supports excellence in municipal service delivery though collaboration, networking and the implementation of municipal performance measurement and benchmarking. The organization has developed a unique and secure cloud-based portal for municipalities that supports data collection, analysis, and shared learnings in support of municipal innovation.
Featured Case Study

April 17, 2023
MBNCanada engaged the Extranet User Manager (EUM) team to consult on implementing a secure data warehouse that can scale to meet the future needs of MBNCanada as they continue to expand and collaborate with participating municipalities. Built in Microsoft365 and Azure, the resulting solution was a portal and data warehouse implemented using the EUM product suite, which is hosted in MBNCanada's Azure instance in the Canadian data centre. EUM manages security through Azure AD. Each municipality, expert panel and committee has its own SharePoint collection, with permissions assigned based on Azure AD groups, and group membership managed through EUM.
Additional Resources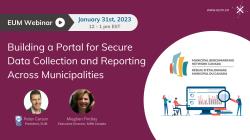 January 31, 2023 ● Webinar
This session focuses on the secure implementation of external sharing in Microsoft 365 at scale, optimization of Azure AD security controls in place both in MBNCanada's Microsoft tenant and the partner municipalities, and the zero-trust security design of the MBNCanada portal itself, which is hosted in Microsoft Azure App Services.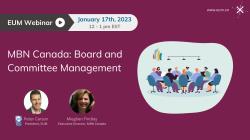 January 17, 2023 ● Webinar
Microsoft Teams and SharePoint Online are a great way to build a portal for boards and committees. And for scenarios where members are external, products such as our Portal and User Manager can provide a seamless onboarding experience.
March 22, 2022 ● Webinar
Power BI is an amazing tool for visualizing data in meaningful ways, however licensing of the tool can be a challenge for many organizations, but we'll explore a very cost-effective option for providing Power BI to all users.