Demystifying Office 365 Tools
Think about the 3 W's - what, who, and when - of OneDrive, Team Sites, and Communication Sites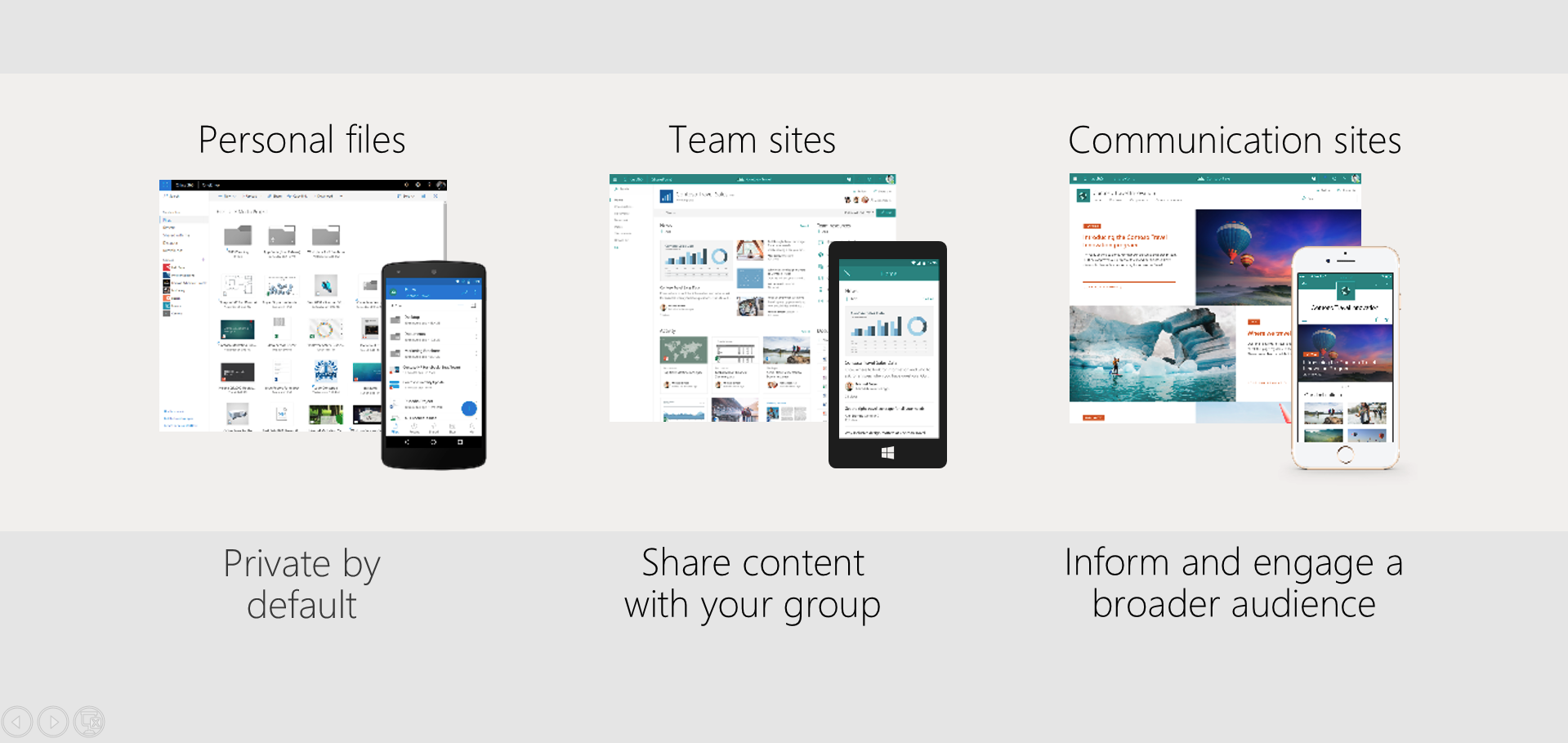 With the ever expanding and evolving landscape of Office 365, having a core understanding of when to utilize a specific tool can save precious time (especially when navigating the app launcher). This is a no fluff, concise explanation of OneDrive, Team Sites, and Communication Sites. What are they? Who should leverage them? And when is the time to utilize them?
OneDrive
What
Storage repository for your personal files whether it be photos, documents, videos, etc. It is included within your Office 365 subscription and can be accessed from any device. OneDrive offers the flexibility to upload all of your different files regardless of the file type, which currently supports more than 270 file types.
Who
You, yourself, and mainly you – except for impromptu sharing scenarios. Be sure to specify and double check the external sharing features you choose as you do not want individuals to have access to your entire OneDrive (including an expiry date on your initial sharing link is a great habit to form).
When
Anytime – this is the beautiful value of OneDrive, regardless of the device you're using, you will have 24/7 access to all of your files.
Top OneDrive Tip
You do not want your OneDrive to function like a Team Site because it's primary purpose is to be a personal drive for all of your files. However, if you feel that your OneDrive is being extended beyond your personal boundaries, you have the ability to escalate it - whether it be a folder or document - to a fully functioning Team Site.
Team Sites
What
A team site is just that… a team site! Team can mean a couple of things:
A temporary team

You are working on a specific project together
Once that project is finished, the site may be erased

Or a permanent team

The site could be leveraged for your immediate team within your organization
A team site consists of standard SharePoint functions such as a:
Document Libraries
Lists
Team OneNote
Web Parts
When looking at Team Sites and Office 365 Groups as a whole, team members also have access to Planner for assigning tasks, a OneNote specific to the Team, Microsoft Team communications, and a dedicated Outlook inbox and calendar with a team email address.
Who
You and others who are working towards a common goal. This can be project based or departmental based.
When
A team site should be leveraged when there are multiple individuals involved in your project. All projects are susceptible to team member turnover, however team sites combats this by providing newly joined team members context into the specific project. All conversations, files, etc. that were discussed prior to them joining have been shared from the start which allows them to quickly get up to speed and begin contributing to the project. Additionally, you can apply policies to the entire team surrounding document management. For example, you can determine whether or not a portion or any of the team site can be shared externally.
Communication Sites
What
Communication Site's name is fairly suggestive and is exactly what it sounds like! A communication site can be leveraged to push out information to your entire organization. You can utilize a series of existing web parts to customize the communication site to a point where you believe it will be the most well received by your audience. These web parts could be the latest:
Company news
Company events
Business apps
Or a document library that applies to the broader audience
Communication sites are ideal for product launches where the information needs to reach your employees quickly. You can then leverage survey forms and questions within Yammer to drive employee engagement.
Who
A large portion of your organization or your entire organization.
When
Do you have a tidbit of information that your entire company should be aware of and you're tired of misusing the 'Urgent' priority in email to get their attention. A communication site is an ideal channel to accomplish this! Any sort of company wide announcements or publications that do not require any or little feedback is a great use case.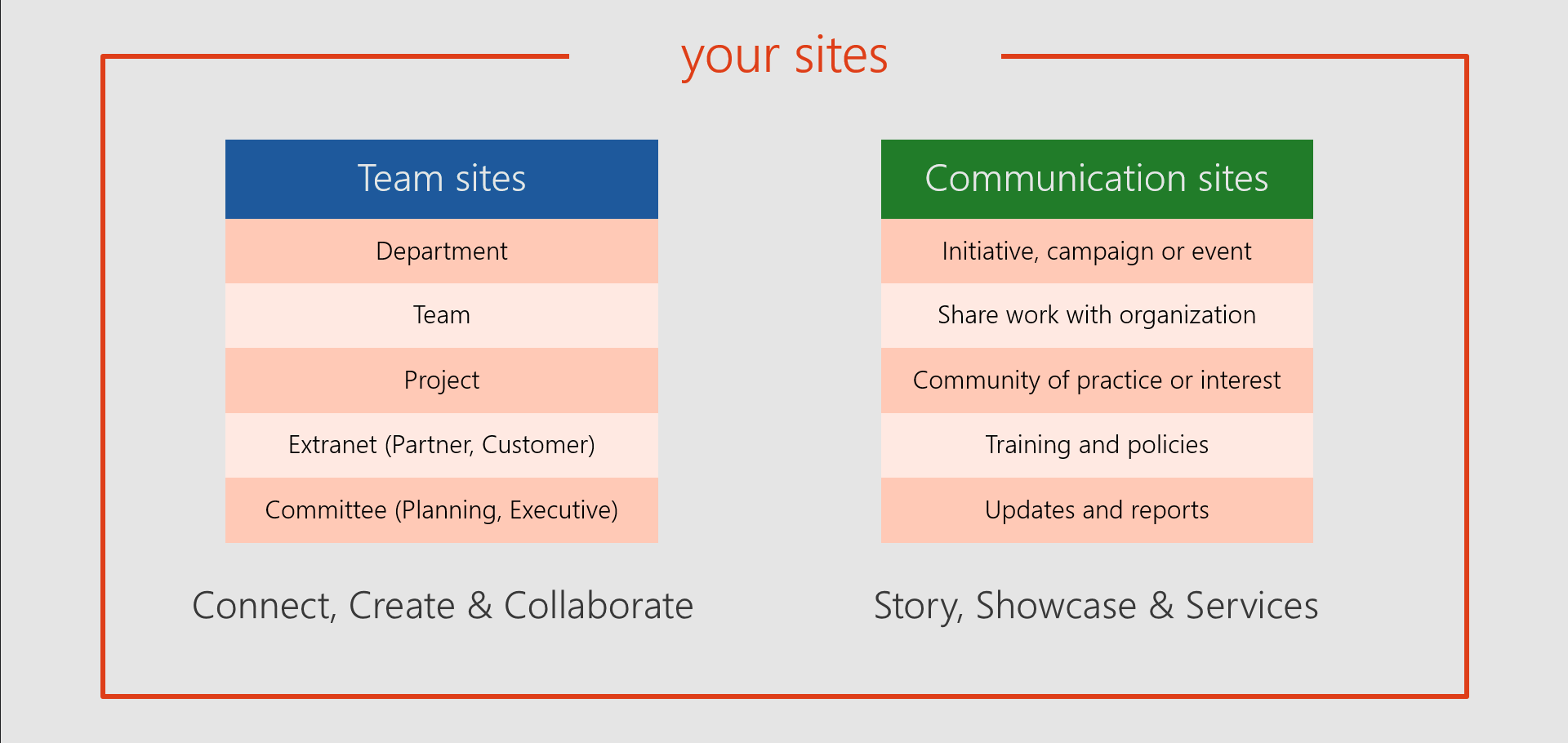 Now repeat after me...
OneDrive – You
Team Sites – Your Team
Communication Sites – Your Company
Ideally, you now have a high level understanding of the roles OneDrive, Team Sites, and Communication Sites play within the Office 365 suite. Now if you're anything like me, you love to dive a little deeper and see these tools in action. Luckily, the team at Extranet User Manager has got you covered! You can view our recent webinar on Managing Team Sites, Communication Sites, and Office 365 Groups where Peter Carson goes in-depth into these Office 365 tools
Sources
Microsoft – What is OneDrive
Microsoft – What is a SharePoint Communication Site
Ignite Session – Share and Work Together on the Intranet with SharePoint Team Sites by Mark Kashman and Jeremy Mazner
Ignite Session – Inform and Engage Employees with SharePoint Communication Sites and News by Mark Kashman and Andy Haon